'The Good Karma Hospital makes Ray Winstone cry every week!' says Amanda Redman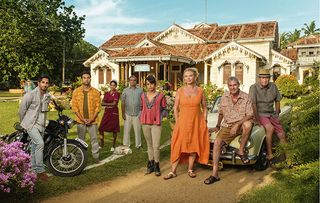 Amanda Redman tells us about Dr Lydia's future and her journey as an actress…
Good Karma Hospital star Amanda Redman sits on the balcony of a busy production office, grabbing a few bites of a vegetable dal and going over lines during her lunch break. "This stuff is wonderful," she says. "Would you like to try a bit?"
We have been invited on set for the second series of this popular medical drama and it's clear the 60 year-old actress has taken to life in the tropics with the same enthusiasm as her character. Amanda Redman has played leading roles in a host of mainstream hits during a stellar career in British television, yet few of her parts seem to fit as comfortably as that of Dr Lydia Fonseca (below).
Last year she won the hearts of millions of viewers as The Good Karma Hospital's wonderfully eccentric Head doctor and the second series of this medical show set in India – but filmed in Sri Lanka – looks sure to be another triumph.
Amanda Redman tells us more about the new series of The Good Karma hospital which returns to ITV this Sunday at 9.00pm....
WOTV: What can you tell us about Lydia's journey this year?
Amanda: "I love Lydia, but she has a vulnerable side that we haven't seen much of before. She's been terribly hurt in the past and she's way too frightened to talk about that, deal with it or commit to somebody else. She's very alpha really, she's more male than female in a way. Her relationship with Greg (Neil Morrissey, pictured below in character) shows her wild side and it's through him that she starts to open up. I love working with Neil, he's such a gent and keeps us all laughing on set."
WOTV: Do you enjoy filming in Sri Lanka?
Amanda Redman: "I love it. It's beautiful. I love the country, I love the people, I love the food. Last year was quite tough because I was away from my family and my daughter for so long, but it's been great this year because they've all come out to visit. My husband has been out here twice! They all saw the show and thought; 'I'll have a piece of that, you've got a villa with a spare bedroom? Fantastic!'"
WOTV: What made you want to do The Good Karma Hospital in the first place?
Amanda: "That's an easy one – the script. There aren't many good ones around, especially not for women of my age. So when this came along I phoned my agent up and said it was a big resounding yes from me!"
WOTV: Have you done much work abroad in the past?
Amanda: "I've worked in Australia, but nowhere as exotic as this. My mum was born and brought in India until she was 12, so I know this part of the world quite well and knew it would be perfect for me. She passed away in 2014 and during the first series I remember talking to her on my balcony and I just said, 'Mum, I'm so glad I'm here because I feel closer to you'. I was weaned on curries, so the country has always been a part of my background and I just love it."
WOTV: Are you a hot curry person?
Amanda: "Yeah! Sri Lankan curry is brilliant and all the tastes so different, it's not like curries at home. So you get things like cabbage curry, pineapple curry, mango curry, gorgeous. I recommend every single one and the dal is the best you'll ever taste! It's so gorgeous and it's so good for you. The hotter the food, the easier it is to cope with the heat. That's why in a lot of hot countries they have spicy food."
WOTV: Were you pleased with the reaction to the last series?
Amanda: "Yes of course. I did it because I liked it so much but that's never a guarantee for an audience liking it, but it's lovely when it does find an audience. What I think surprised me more than anything was the fact that so many men liked it, this Sunday night slot tends to be very female-orientated, but lots of men loved it. The trainers in my gym were the worst, every Monday I'd go in and they'd go; 'You're killing me, I can't bear it!' My great friend Ray Winstone absolutely loved it and never missed an episode even though it made him cry every week!"
WOTV: Apart from the wonderful location, what makes The Good Karma Hospital unique?
Amanda: "People call it a medical drama, but it's actually more about the human stories, which are different to what we'd get at home but also in very similar in a way. They really do resonate and I think what it does is it makes us very aware of how lucky we are living where we do with all the back up and the NHS. In other parts of the world it's very different."
WOTV: What do you guys do in your free time when you're not filming?
Amanda: We all go out to dinner quite a lot, we're each other's family when we're abroad. Then you think; "this work is interrupting my holiday!"
WOTV: You're always working, what's the secret of your success?
Amanda: "I've been lucky in what I've been sent really. There are probably three really good roles a year for women in their 50s, which I think that's very sad, especially as the demographic of people who watch television tends to be women over the age of 40. I've had lean periods before because I didn't fancy doing what I was offered, but I'd rather do that than do something I didn't want to do."
WOTV: Is The Good Karma Hospital something you could see returning for many series to come?
Amanda:" If it's successful and ITV wants it back again there's no reason why it can't go on for however long people want to do it."
The Good Karma Hospital returns to ITV at 9pm on Sunday 18th March
Get the latest updates, reviews and unmissable series to watch and more!
Thank you for signing up to Whattowatch. You will receive a verification email shortly.
There was a problem. Please refresh the page and try again.