Grantchester's Tessa Peake-Jones: 'James can be quite naughty sometimes!'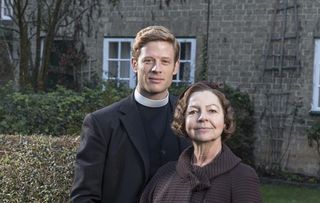 We love how Grantchester's formidable housekeeper Mrs Maguire always keeps vicar Sidney Chambers in check. And it sounds like actress Tessa Peake-Jones has to keep just as close an eye on James Norton...
Tessa Peake-Jones chats about her co-star James Norton, a shocking arrival in Grantchester and why she hopes Mrs Maguire will always be grumpy…
Being Del Boy's other half Raquel in Only Fools and Horses made her a household name, but Tessa Peake-Jones has recently attracted a new legion of fans as Mrs Maguire in crime drama Grantchester.
The vicarage housekeeper has become a firm favourite with her grouchy demeanour and no-nonsense approach, as she tries to keep crime-fighting clergyman Sidney Chambers (James Norton) and timid curate Leonard Finch (Al Weaver) in check. Tessa feels lucky to play her especially as, she reckons, Mrs M is one of very few interesting roles for older women on television.
"Things are changing, but I think it's still happening rather slowly," said Tessa, who celebrates her 60th birthday this week. "I still long to have a series about women in their fifties and sixties discussing things like the menopause and other problems they go through.
"When you consider that it's most likely to be women in that age group who are watching television, they want drama they can relate to. They don't always want to watch 30-somethings getting their kit off!"
Mrs Maguire has revealed a – dare we say it – softer side this series, as she explores her courtship with the incredibly charming Jack (Nick Brimble). But when a face from her past turns up, this Sunday, it looks set to throw a spanner in the works, as Tessa reveals…
As well as keeping an eye on Sidney, this series Mrs Maguire seems to have taken to her new role as babysitter for his love interest Amanda's daughter Grace… "Mrs Maguire's maternal instincts are primed to protect Sidney at all times and she knows that, as a vicar, Sidney's duty is not to get involved with a married woman who has a baby. But since she's formed a bond with Grace, she's become very conflicted as she now sees Amanda (Morven Christie) in a different light; as the mother of this baby and not just this person that's threatening Sidney's career. So, now we're seeing a coming together of two women because of a baby and, ultimately, a shared love of Sidney."
How are things going between Mrs Maguire and her gentleman friend, Jack? "She's certainly enjoying this new romance. The joy about Mrs Maguire, though, is her grumpiness, so I really didn't want to soften her up too much. I didn't want it to suddenly be that she'd found someone and had gone all soppy. Jack's simply devoted to her. Only he would say something like: 'You're magnificent Mrs M', when she's screaming her head off at somebody!"
Mrs M has been enjoying nights at the bingo with gentleman Jack (Nick Brimble)
There's a major shock in store, this week, when Mrs Maguire's estranged husband, Ronnie (Broadchurch's Charlie Higson) turns up. How does she feel about seeing him? "Viewers already know that Ronnie went missing during World War II and was presumed dead. In previous series, we've seen Mrs Maguire kiss a locket she wears, which has his picture in it. As a woman of faith, marriage to Mrs Maguire meant forever. So she still feels she's committed to him."
Mrs Maguire's thrown when her estranged husband Ronnie (Charlie Higson) suddenly turns up in Grantchester
Mrs Maguire likes to keep tabs on Sidney and Leonard. Do you have to do the same, working with James and Al? "There's generally just a really good camaraderie on set and James and Al, in particular, are so funny – but they can be quite naughty sometimes. Last series, we were filming a scene and they had to be banished out of the house completely, but they've been on slightly better behaviour this time. Amanda and I are definitely the 'goodie two-shoes' of the cast. We know our lines and we're always first on set."
Did you base the character of Mrs Maguire on anyone you know? "I did actually. When I was 16, I worked for the gas board answering the phones to all the customers' complaints and there was a woman who was the PA to the boss. She wore very high heels, her hair pulled back in a Forties' style and very prominent lipstick – so nothing like Mrs M dress-wise – but she had a very fierce demeanour and hardly ever smiled. She was actually very kind to me but, on the outside, she was really tough – I was terrified of her!"
Do people recognise you as Mrs Maguire out and about? "They do but if I wear my glasses, it throws them off the scent a bit. I got chatting to a woman on the bus once and she said to me: 'Ooh, I love Grantchester but how do they make you look so old and ugly?' to which I replied: 'Well, I'm not wearing any make-up in it'. As she kept on, though, about how old and ugly I looked in it, it was beginning not to feel like the compliment I'm sure she'd intended it to be!"
Grantchester continues on Sundays at 9pm on ITV.
Get the latest updates, reviews and unmissable series to watch and more!
Thank you for signing up to Whattowatch. You will receive a verification email shortly.
There was a problem. Please refresh the page and try again.