Holby City's David Ames: 'The gym or a swim clears the cobwebs away for me!'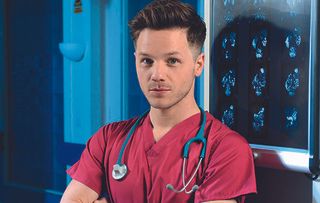 (Image credit: BBC/Kieron McCarron)
Here's our quick catch up with Holby City star David Ames...
David Ames has wowed us Holby City fans for a few years now, as we've followed the rollercoaster life and career of Dr Dominic Copeland on screen. Always fun to have a chat with, David spilled a few secrets to What's On TV about his life at Holby City and away from the set...
What's On TV: What do you enjoy most about playing Dom?
David Ames: "He's such a colourful character and has so many different sides to him. Although he's matured a lot over the years he still retains that element of a slightly sensitive, damaged young guy trying to make his way in life. A lot of people can identify with him."
WOTV: What is it like working with singer Lee Mead, who plays Dom's love interest Lofty?
DA: "Lee is genuinely one of the nicest people you'll ever meet. He's very funny and quite ditzy, in many ways he's just like Lofty! You can always hear when Lee's around because inevitably he'll be singing."
WOTV: Have you been along to see Lee singing on tour yet?
DA: "Not yet but I desperately want to although every time I'm in the dressing room next door to him, I feel like I'm being treated to a small concert because I can hear him singing through the wall!"
WOTV: Holby has always been a great show for embracing diversity, wouldn't you say?
DA: "Absolutely. It's an incredible show for illustrating diversity and for championing it. Quite often it's come under fire for certain storylines especially when Dom was having the trouble with Isaac, and there was the relationship stuff between Serena and Bernie. Occasionally we were getting Tweets or letters saying 'Holby's got too gay!' And we were like: 'Hold on, that's a small percentage of the cast'. And, quite rightly, I was asked by Attitude magazine for a quote with regards to this. And I said: 'If you were to remove the words 'too gay' and insert any other minority into that sentence, it would be considered such a heinous thing to say. So what makes people think it's OK to say it about sexual orientation?' Wonderfully, we have the most diverse and amazing cast, crew, writers and producers, and we come in all shapes and sizes, orientations and everything. It's so brilliant that we all come together as such a family and create a show that we hope represents everyone."
WOTV: What do you like doing in your spare time?
DA: "I like going to the gym. There's pressure in our industry to look good but for me it's really good for mental health too. To spend an hour in the gym or go for a swim clears the cobwebs away."
WOTV: Do Holby City fans recognise you when you're out and about?
DA: "Not that often but Gok Wan is one of my best mates. If I'm out with him people immediately do a double take."
WOTV: You're big into social media such as Twitter and Instagram...do you enjoy doing it?
DA: "Social media for me has predominantly been about humour; it's about observations, it's about making people laugh, or it's about putting across important or poignant thoughts… To get thought going among people to raise debate at times, is what I try to do. As well as the selfies, there's also the odd pseudo-political commentary on something that's going on, sort of social commentary as such. So I try and keep it balanced but it's a strange age I think for social media, it's very odd. It's something I embrace and I like to have fun with but at the same time I try not to let it rule me. Finding that balance is key. I think it's important that it doesn't become your life. Physical relationships and physical contact with people should always be first and foremost. Whatever happens after that is fine."
WOTV: We see that you little dog has become a bit of an Instagram star. It's so sweet...
DA: "Ha, ha, ha! Yes, little Frank has become quite the topic of conversation with some people. I was wandering through Soho the other day with my friend Sian and these three ladies said to us: 'Oh my God, can I have a picture?' And it took me a moment to realise it was actually the 1990s girl group All Saints. The Appleton sisters became totally enamoured with Frank, which was hilarious. I've brought him to work before and even Dawn French stopped to give him a little stroke after filming something at Elstree, so Frank certainly gets the attention as my partner will tell you. Frank is my partner's dog really – he lives with my partner. I'm the stepdad, but that's fine, I can live with that. But he is absolutely gorgeous."
WOTV: What's on your wish list of travel destinations?
DA: "I went to Thailand not long ago which was just amazing. I'd love to explore South East Asia more and it's always been a dream of mine to hire a car and travel down the west coast of the USA, to San Francisco, San Diego and Las Vegas. There's still loads on my to-do list!"
* Holby City continues on Tuesdays, BBC1, 8pm
Get the latest updates, reviews and unmissable series to watch and more!
Thank you for signing up to Whattowatch. You will receive a verification email shortly.
There was a problem. Please refresh the page and try again.