Home Fires' Francesca Annis: It's great Joyce now has a house... 'I was like the village trollop!'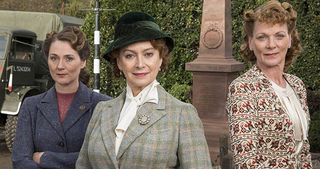 (Image credit: ITV)
TV Times met a chirpy Francesca Annis, dressed snazzily in red and black skirt and tights, at ITV's London headquarters and she was bursting with enthusiasm at again playing spirited Joyce Cameron in ITV's wartime drama Home Fires.
This series has seen a different, more vulnerable side to the battleaxe of the Great Paxford WI, as she has separated from her pompous husband over his murky business deals and is now an integral and even rather popular part of village life.
Francesca couldn't be happier…
It has been lovely having Joyce back this series as it looked like she had left with her husband in the last run. Did you always know she would be back?
"No I didn't! I thought she'd gone off to live happily ever after with her husband but, life being what it is, she came back chastened. It was difficult leaving your husband at that time and it would have been frowned upon in a village, but she couldn't tolerate his dealings.
"So now both she and Frances [Samantha Bond], who were the two well-married, strong women in the village are alone and a bit lonely, and I think people have started to empathise with Joyce a bit more this series."
Have you enjoyed showing more of her personal life?
"Yes, it is great that Joyce now has a domestic life and we see her son Malcolm (Richard Laing) turn up this week and her past does catch up with her. In the first series I never even had a house, I was always out in the street, it was like I was the village trollop!"
"She is also more hands-on and practical now so this week, when there is another crisis and the corn harvest needs to be picked, Joyce is out there in the fields with everyone else."
What do you enjoy about playing her?
"Joyce is so different from other people I've played and she is also older and I feel quite comfortable with that. I don't have to be glamorous and wearing seductive clothes, I am just playing a normal person in a village.
"I just like her – she is a good person and bright. I've also not been an ongoing character in a series before and it's interesting. It really keeps you on your toes, but I have felt more relaxed this series than I did in the first."
What reaction have you had to the show?
"Well, when I am out, people at the checkout say that they love it! I was surprised because there are so many war things on, but we are just eternally interested in other people and how they cope with life. Also, I think it has sucked in viewers because it's not melodrama, and that's attractive because it means you can empathise with people."
Have you had feedback from the real WI?
"Well, a sister-in-law of mine is in the WI in Devon and she says it is just like we portray, it is very democratic and everybody has a voice over every issue in her village branch. Although it wasn't so democratic in Great Paxford when Joyce was first in charge!"
Have you bonded even more as a cast this year?
"Oh yes, we are very good at nattering on set, but a lot of the cast also do the crossword and I don't because I am absolutely hopeless at things like that! It is really fun in the evenings, too, when we are shooting because we all go out to the pub. It has also been particularly nice this series because if you have a few days off, you don't come back a stranger because we will have been in touch in between.
"Even when we're not filming we meet up in London to have a catch-up and spend an evening together. That camaraderie is like you get in a theatre company."
Some actresses find that work dries up as they get older, but have you found you are getting more interesting roles?
"Well, one of the things that attracted me to Home Fires originally was the fact that the vast majority of women in this are over 40. There are more parts, more things happening and more interesting things in life now. I think I have just been extremely lucky, I haven't worked all of the time, but I have worked a lot of my career and quite consistently."
You have been an actress for over 55 years – what keeps you so excited about your work?
"I just think the constant change and the fact you work with so many different people is stimulating. I feel incredibly privileged and lucky that in my profession you don't get retired, you just make changes and consequently you don't get bored, it is not like doing the same job for 50 years, because every 10 years or so, you make a big change."
Is there anything you would still like to do more of?
"I just want to keep doing good work, but when you do contemporary things or even contemporarily written things like Home Fires you think, 'Oh I would really like to be in a big classic next', but we will see. I would like to do some more comedy though; I think I would be quite good!"
Would you ever do a reality show?
"Funnily enough, I thought that Strictly Come Dancing would be such fun, but then I got over it! They never asked me anyway, but it was my fantasy. Those frocks are hilarious and the metamorphosis of these people is just great, it is so entertaining."
Get the What to Watch Newsletter
The latest updates, reviews and unmissable series to watch and more!