How do you deal with life after EastEnders? Sam Attwater explains how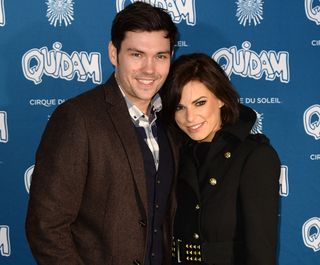 (Image credit: Doug Peters)
Best remembered as Leon Small in EastEnders and for winning Dancing on Ice in 2011, Sam Attwater (opens in new tab) explains to Soaplife why life got better after the two shows...
How are things with you, Sam?
"Great. I'm touring the UK until early July in a play called End of the Rainbow (opens in new tab). It's about Hollywood legend Judy Garland towards the end of her life, and I play her fifth and final husband, who was a guy named Micky Deans. He was a bit younger than her, initially procured drugs for her and he became her manager as well as her husband!"
It sounds like a great role!
"It's a fascinating story and Micky's a great part. I wasn't planning on doing another tour. But when I read the script and I sat down with my wife, Vicky [Ogden (opens in new tab), star of Dancing on Ice (opens in new tab)], we agreed I should do it. It's a long tour, but I'm able to be at home three nights a week because we get Sundays and Mondays off."
Do you and Vicky still ice dance together?
"Not really. Vicky has her own ice dancing school in Milton Keynes, which means she's on the ice twice a day. I occasionally help out teaching the pupils how to learn their dance steps, but that's all. I'd like to do more skating, but there just isn't the time. Besides, when Vicky has time off, she doesn't exactly want to spend it on the ice and I don't like skating on my own!"
You have your own theatre school, too, don't you?
"I do. It's called Universal Performing Arts, or UPA, and it's also based in Milton Keynes. We've been going since September and I love it. Seeing the kids develop and improve is so rewarding. I wish I'd started it before. It's made me and Vicky want kids even more. We're so happy about the pregnancy and can't wait to become parents."
How do you look back on your time at Hollyoaks and EastEnders?
"With enormous affection and gratitude. I wouldn't be doing what I'm doing now without them. I learnt so much and made some fantastic friends along the way, especially at EastEnders. I'm still close to Marc Elliott (opens in new tab), Nina Wadia (opens in new tab) and Cheryl Fergison (opens in new tab). They came to our wedding and have been to see me in End of the Rainbow."
You're 30 in April, Sam. What are you doing for it?
"I'll be onstage, but I've got a week off soon after and Vicky's taking me to Dubai!"
For more information on End of the Rainbow, visit www.endoftherainbowtour.co.uk (opens in new tab)
Thank you for signing up to Whattowatch. You will receive a verification email shortly.
There was a problem. Please refresh the page and try again.