'I can tell when a couple is not going to last!' Davina McCall on hosting The 100K Drop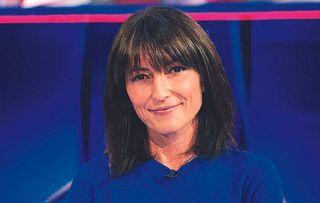 (Image credit: Chris Bull / UNP)
Davina McCall reveals how relationships are tested to breaking point as The 100K Drop returns for a new series
Davina McCall is back with a new series of her nail-biting quiz show, The 100k Drop, in which contestants gamble a whopping £100,000 while answering eight general knowledge questions.
Here, in an exclusive interview with What's On TV, Davina talks risking it all, relationship agonies and her plans for the future....
What's On TV speaks to Davina McCall
What's On TV: What do you love most about presenting 100K Drop?
Davina McCall: "For me it feels a bit like coming home, I know it so well. The other thing I love is the people because every single game is different. Watching people's relationships pan out when they're trying to decide what drop to put the money on is always fascinating! Sometimes you can look at them and go, 'Oh God, this couple is so NOT going to stay together for very long.'"
WOTV: Tell us more!...
DM: "You get situations where one person is totally certain they've got the right answer but their partner still doesn't trust them. You think, 'Well, I wonder why that is?' I would actually like to dig a bit deeper and ask, 'Why did you refuse to listen to them just then? Why don't you trust them?' I love having different generations on and also best friends. With friends there's less stress, no hassle, no underlying gripes, but they still know eachother well."
WOTV: What really tense moments stand out in your memory?
DM: "Every episode is tense! When someone says, 'I'm 100 per cent sure, I definitely know this answer', and then they're wrong it's just awful. It happens with me too. I'm there thinking, 'I know this, I know this' and I don't.When we first started making the show I specifically requested not to be given the answers. It makes it much more fun for me and more importantly I can't give away anything with my expressions. My poker face is absolutely pants! As you would expect, I'm shocking!"
WOTV: What highlights have there been over the years of you hosting?
DM: "A highlight from the last series was we had two really confident guys, they spread a bit on the first question and then after that they got through with the whole lot and ended up winning £75K out of the £100K. That was mega. On a daytime show to win £75, 000 is unheard of."
WOTV: And lowlights?
DM: "One poor guy came on when the prize money used to be a million pounds and said, 'I'm the biggest Million Pound Drop fan, I know exactly how I'm going to play it, I've seen every single episode, this is my moment' and he came on, we started playing, he put all of his money on the wrong answer on the very first question. Ouch! And the terrible thing is that is his partner was questioning him going, "Are you sure, are you sure?' I think she thought he was making a mistake. Can you imagine?"
WOTV: What's your own general knowledge like?
DM: "It's er ok…yes, I'd say OK at best! But what's different about the show is you can be really good at general knowledge but still fall down because the questions are very specific in style. Even the way they word them. Sometimes they do this thing where they include a negative, 'Which of these is NOT a ….' Which can be confusing. It messes with you psychologically."
WOTV: Which quiz shows did you grow up loving?
DM: "Definitely Blankety Blank with Les Dawson and I also loved The Generation Game, I used to watch it with Larry Grayson. I loved Larry Grayson, he was so funny."
WOTV: What do you like watching together as a family with your three children?
DM: "We love watching I'm A Celebrity and Britain's Got Talent and I'm trying to watch things with my son Chester that he likes, he loves all the YouTubers and we watch James Corden a lot. We all love him. And we all enjoy watching movies together. I was rather obsessed with A Star Is Born, with Bradley Cooper and Lady Ga Ga. SO good! I loved everything about it."
WOTV: If you won the £100k prize what would you spend the money on?
DM: "A massive family holiday with all the extended family. We'd all go off somewhere hot, sunny and lovely. It would be all the kids, all the cousins, all the kids of the cousins, one huge gathering."
WOTV: Didn't you try out surfing on a family holiday last year?
DM: "Yes, and I'd love to do it again. We're hopefully going to try and do it this year. We went to the Maldives and had the most amazing instructor, she was so calm and brilliant with all of us. It's great for fitness too, my upper body just from paddling back out after coming into the beach …oh my God, it's amazing for your arms!"
WOTV: How do you feel about Big Brother being axed after 18 years?
DM: "I did it for 11 years and I think Emma (Willis) did it for 8 year and I was talking to her the other day about it and we both said, 'It's an end of an era.' I grew up on that programme and Emma did it at the same time in her life as I did, a lot of stuff happens during those years, it becomes part of the fabric of your life. All three of my pregnancies took place during Big Brother. Holly, who I was pregnant with in series two is now driving! Can you believe it? She's 17 now!"
WOTV: Did you have a good Christmas? Are you a big Christmassy person?
DM:"I'm a massive Christmas fan! Any kind of holiday or calendar event, I throw myself at with gay abandon. Christmas is one of those times. I festoon my house with ridiculous lights, everything is sparkly, I've got special Christmas plates, teatowels, aprons. I always wear a Mrs Santa outfit on Christmas Day. I think it's fair to say I really go to town. I embrace Christmas with all the joy that it brings!"
WOTV: And do you like doing the cooking?
DM: "I love it. It's the one meal I'm actually really bloody good at. I always do the whole traditional thing, the turkey and all the bits and pieces. I live in the country – I have an AGA – I feel I have to justify the fact I have an AGA by pre-empting that I live in the country. But it's actually amazing for cooking for loads of people. This is what a sad person I am; I actually went to a special AGA Christmas Day tutorial at the Aga shop and learnt how to cook a Christmas lunch. But hey, it helped when I was doing Christmas lunch for 26 people!"
WOTV: What else have you got coming up this year?
DM: "I'm filming another series of Long Lost Family with Nicky Campbell and there'll be a new series of This Time Next Year. I've also got a new DVD out which I'm really excited about. So lots happening."
WOTV: You've been doing a fitness training qualification haven't you?
DM: "Yes I have, so I'm now a qualified fitness instructor and the next level is to do a Personal Training qualification. I have to say it's quite hard work….as it should be. It's taking me longer to complete that I thought it would."
WOTV: What about resolutions? Do you believe in making them?
DM: "I do. I like the concept of thinking by this time next year I want to have done this or achieved this. Well of course that's what the show This Time Next Year which is all about that. I think setting goals is good but I think the important thing is they need to be achievable. I'm not sure what mine will be this year but I think they will include something to do with DJ-ing. I've always wanted to learn how to mix properly."
The 100K Drop returns on Monday Jan 7, 4pm, Channel 4
Get the latest updates, reviews and unmissable series to watch and more!
Thank you for signing up to Whattowatch. You will receive a verification email shortly.
There was a problem. Please refresh the page and try again.