'I could beat Adam Richman in an eating contest!' says BBQ Champ host Myleene Klass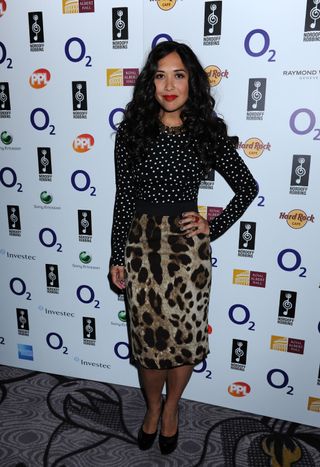 (Image credit: Associated Press Contributors)
Myleene Klass (opens in new tab) is hosting new ITV series BBQ Champ (ITV, Friday, July 31), in which eight of Britain's best amateur barbecue enthusiasts will be battling for victory, but with top restaurateur Mark Blatchford and Man vs Food star Adam Richman (opens in new tab) on the judging panel, they'll have their work cut out to impress!


We chatted to Myleene about the new series…
Are you a big barbecue fan Myleene?
" Yes I love a good barbecue, although I'm not very good on the grill! I'm so pleased to be presenting the show because it's amazing, but I couldn't believe they wanted me to do it. I kept saying; 'You do know I can't cook right?'"
Who's in charge of the barbecue in your house then?

" I actually got a barbecue for my birthday a couple of years ago and it's one of my favourite presents. I love the family aspect of barbecues. Everyone comes over, someone brings beers, someone brings chicken. My mum always brings a ton of fried rice – that's the Asian element of our family, and my dad brings the bratwurst – the Austrian element, and everyone gets stuck in!"
Do you get to taste the contestants' creations?

" Of course! Adam knows I'll hold it against him if I don't get a go, so he always saves me little bits. There are lots of people to fight though to get to the plate as well. Adam and Mark, then all the crew and the contestants! "
What kind of things are they creating?

" I've seen things that you'd never believe were possible on a barbecue. They've been making Yorkshire puddings, soufflés, smoke-infused strawberries... There's so much weird and wonderful food. I've even had barbecue cocktails, where someone has infused ice cubes with smoke and all sorts! "
You've been eating well then!

" I've been eating like Fred Flintsone! I'm going to have to hit the gym like a demon when the series is finished. "
How are you getting on with the contestants?

" I love them all because they're all so talented and passionate about barbecue. One of them is married but his wife describes herself as a 'barbecue widow' because he's out in the garden doing stuff on the barbecue all the time. He's out there in all kinds of weather all year round. "
Has it been enjoyable working with judges Mark Blatchford and Man vs Food star Adam Richman?
" It has because they're both so passionate about what they do. They also have a bit of bromance going on – they're always off in some corner talking about food! "
We hear Adam is very impressed by how much you can eat, do you think you could take him on in an eating competition?
" Definitely. I'd beat him as well and I think he knows it. It's the Filipino in me, I can eat loads and loads. We've had Man vs Food, well now we should have Man vs Mylene! "
It sounds like you're having great fun, but it is a competition. Is it sad when one of the contestants has to leave?
"It's genuinely sad when someone has to go, because there's a real family feel and they're all mates, swapping recipes and stuff. What's nice is that there's no walk of doom when someone has to leave, they just crack open the beers – just like a real barbecue! "
Sean has been writing about all things telly for over 10 years and in that time he's been lucky enough to interview stars like Ian McKellen, Tom Hardy and Kate Winslet. His favourite shows are The Great British Bake-Off, People Just Do Nothing and Succession and in his spare time he enjoys drinking tea, doing crosswords and watching football.
Get the latest updates, reviews and unmissable series to watch and more!
Thank you for signing up to Whattowatch. You will receive a verification email shortly.
There was a problem. Please refresh the page and try again.