Invaders from Mars (1980) | Blu-ray release – Tobe Hooper's 1950s sci-fi homage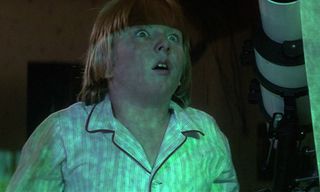 Glancing at the retro credits of the Final Cut Entertainment Blu-ray UK release (opens in new tab) of this 1986 sci-fi, director Tobe Hooper's homage to the 1950s classic, Invaders from Mars, about a small-town boy who is convinced aliens are taking over the minds of his parents and townsfolk, should have been as inventive and rewarding as John Carpenter's The Thing or David Cronenberg's The Fly.
It had Dan O'Bannon (Alien, Return of the Living Dead) and Dan Jakoby (Arachnophobia) on script duty, the legendary Stan Winston conceiving some great creature effects, John Dkystra doing the impressive visuals, and Christopher Young supplying a suitably cosmic score. The cast, meanwhile, was a who's-who of favourites, including Louise Fletcher, Karen Black, Timothy Bottoms and Bud Cort.
But, and it's a big but, Invaders from Mars was made by Menahem Golan and Yoram Globus' Cannon Films, and they were notorious for creating some of the VHS-era's worst films (just check out the Electric Boogaloo (opens in new tab) documentary). Not only that, it was the second of Hooper's three-picture deal with the misguided Israeli cousins to misfire – spectacularly. His first was the hugely expensive sci-fi flop Lifeforce (you can read all about that here (opens in new tab)).
The problem with Hooper's Invaders is that it doesn't know whether it wants to be a serious sci-fi, a spoof, or a kiddie-friendly adventure. There's also no action or suspense, and Hunter Carson, who plays David, is plain awful (he probably only got the job because he was Karen Black's son). The original David, Jimmy Hunt, puts in a cameo as the Police Chief which made me smile, as did the in-joke of setting the film in the same town as another sci-fi classic, Invasion of the Body Snatchers. Now, there's a reimagining that's just as good as the original.
The Final Cut Entertainment Blu-ray UK release (opens in new tab) includes the following extras:
• A career in Cannon/Tobe Hooper in the 1980s with film historian David Del Valle • Mission to Mars: The Special Effects of Tobe's Invaders by Alec Gillis (art department co-ordinator and creature effects crew) • Red Planet Recollection: Remembering Invaders from Mars by Leslie Dilley (production designer) • Creative Concepts: An interview with William Stout (concept artist) • Invaders from Mars concept art presented by William Stout
Get the latest updates, reviews and unmissable series to watch and more!
Thank you for signing up to Whattowatch. You will receive a verification email shortly.
There was a problem. Please refresh the page and try again.