Jack Black is caught up in global politics in new Sky Atlantic comedy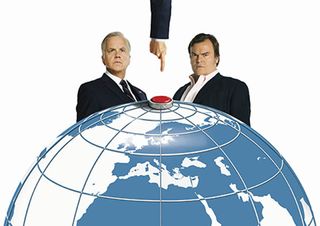 Jack Black (opens in new tab), best-known for films such as Shallow Hal and School of Rock, makes a foray into TV comedy this week with Sky Atlantic's The Brink (Monday, June 22), a new 10-part satire about geo-politics and American foreign policy.
The 45-year-old plays Alex Talbot, a low-level bureaucrat working in the US State Department and stationed in Pakistan, while fellow Hollywood star Tim Robbins plays US Secretary of State Walter Larson, and Rob Brydon and Doctor Who's Michelle Gomez are eccentric British couple Martin and Vanessa...
TV & Satellite Week (opens in new tab) asked Jack what's in store…
How would you describe Alex?
"There's a dichotomy – he's out there on a foreign aid mission, bringing fresh water projects to Pakistan and he wants to do good for the world. But he's also there representing the USA and wants to climb the ladder – he wishes that he was 007, master of espionage. There's both angel and devil in the guy – he's got good instincts, but he's also got these deep unquenchable urges."
What kind of urges?
"He loves to have lots of sex. He doesn't get very much of it, but he's constantly thinking about it. And he loves to smoke weed. He's the dumb American coming to town, being super insensitive and thinking that Americans are the best. There's a lot of comedy that comes from that."
Would you say you are political?
"I am political in certain respects, mostly on social issues. I'm a big champion of equal rights for gays and lesbians and all the various races. I'm not as well versed in world politics, but I'm all for diplomacy over war. So I guess I'm a bit of a hippie."
Do you think comedy is a more effective way to explore these issues than drama?
"For sure. Comedy can lead to really absurd, hilarious, strange premises that break down barriers in a way that you couldn't do in a drama. Hopefully we can melt down some of those barriers, find some common ground, and say, 'Look, your politicians are nuts. Our politicians are nuts – let's all get along'."
What was your biggest challenge in the role?
"Being waterboarded. They put a bag over my head, which is, I believe, how they actually do it, so that the water goes up the nostrils smoothly. That episode was directed by Tim Robbins, who is also a friend, so it was great and horrible at the same time."
You've worked with Robbins a number of times over the years. How did you meet?
"He gave me my first film role – he cast me in Bob Roberts when I was just 20 years old, which was a million years ago. I've been in every one of his movies since then – though he's only directed three. Hopefully he's due for another one soon."
Get the latest updates, reviews and unmissable series to watch and more!
Thank you for signing up to Whattowatch. You will receive a verification email shortly.
There was a problem. Please refresh the page and try again.