James Martin and Anita Rani on This Morning: 'Live telly is a buttock-clencher!'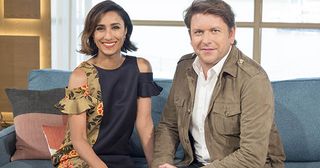 James Martin and Anita Rani may only be Friday stand-ins on This Morning, but they're already hits. But how do THEY feel about their performances?
Having now presented two shows together previously, while regular hosts Phillip Schofield and Holly Willoughby are on their summer break (with Eamonn Holmes and Ruth Langsford filling in Monday to Thursdays), Anita Rani and James Martin are proving a hit with viewers on Fridays, and their easy banter shows why.
We all know chef James is an expert in the kitchen, but ladies fashion? Seriously?
"It's true! James is really into handbags and shoes. He's got a great eye," grinned Countryfile's Anita, who's privy to such information now the two are sharing the sofa together, presenting ITV's This Morning on Fridays.
"All I did was start talking about Birkin bags and the history of Chanel handbags and everyone looked at me as if I was weird!" explained James, indignantly.
So there's a feminine side to the car-loving, blokey TV chef is there? Who knew!
"Oh, it'll all come out over the summer, don't worry," teased Anita. "I plan to interview guests on one hand and get James Martin to reveal all his secrets with the other!"
"God almighty," groaned James, visibly squirming. "If you do I'll go and hide in the kitchen!"
Here, James, 44, who left Saturday Kitchen after a 10-year stint in March, and Anita, 38, who impressed the nation in last year's Strictly, talk cook-offs, dance-offs and 'ladies issues'..
Guys, you look as if you're having a ball on the This Morning sofa… Anita: "What a way to spend Friday mornings! I thought it would be terrifying as it's such an institution, but I'm having a blast. It doesn't feel like work!" James: "I'm really enjoying it. I co-presented the show with Holly and Ruth earlier this year and the nerves were bad, I admit that! But these Fridays with Anita, I feel I can actually breathe. It's a tricky job to do – it's live and there's no rehearsal time with guests, like on Saturday Kitchen."
Is it nice being out of your usual comfort zones – fields and kitchens?! Anita: "It's great not to be in wellies! To wear a nice dress and heels and talk about girlie stuff is a real treat, as I don't usually get the opportunity. People are seeing a different side of me." James: "Oh, they've still got me in the kitchen cooking – they wouldn't let me get away with that! What's great though is the variety of stuff we do on This Morning – from animal stories to sad human interest tales. It's challenging, but I love it."
Were you both fans of This Morning? Anita: "Of course, who isn't? I was obsessed and watched Richard and Judy all the time as a student. I couldn't believe it when the phone rang and they asked me. It's a gift of a job with all the light and shade topics we cover. I'm having a charmed year." James: "I feel the same. No matter what your age or what you do as a career, everyone's watched This Morning. I honestly thought people wouldn't care if I left Saturday Kitchen, but the phone started ringing and the first call was from ITV asking me to come on board. Big household names hold This Morning, so my insecurities came out and I said, 'You want me? Are you sure?!'"
"But they said they wanted someone with opinions, not a puppet, so here I am.
"I rang my mum who's a massive fan of the show and said, 'What do you think?' She went, 'Blimey, son, you might need to get a new shirt!' So I did – and new shoes!
Talking of shoes, how well do you think you're filling Phil and Holly's? Anita: "I'm not! I can't fill their shoes as they're amazing. I'm just bringing my own weird slippers!" James: "We're no competition. There's Premier League and there's First Division and I'm quite happy building myself up…" Anita: "We're really enjoying working together though and clicked straight away – maybe it's our Yorkshire roots! It feels we're growing together as a little team."
Highlights so far? Anita: "On our first show we had a woman on with her pet crow and it crapped itself – that's proper live telly!" James: "Interviewing Matt Damon for the new Jason Bourne movie was quite cool." Anita: "I can't believe you got to do that one!" James: "I pulled rank! I don't get star-struck as I interviewed lots of celebs on Saturday Kitchen. I just do lots of research and try and find something they don't usually talk about. I discovered Matt likes poker so we chatted about that before the cameras started – that broke the ice nicely!"
Who would be your dream guests? Anita: "Michelle Obama – I absolutely adore her." James: "She might have some time on her hands soon…" Anita: "And Tom Hiddleston. I'd like to be on the sofa with him…"
James, how are you coping with the fashion and beauty items? James: "Not well according to my mum! She rang and told me I should stick with what I know and not talk on women's topics…" Anita: "I'll let you into a secret – James actually said to me, "I'll leave you with the 'ladies issues' – which made me laugh my head off! You can bet your bottom dollar I'll ask his opinion on every 'ladies issue' we cover." James: "I'll walk away if you do!"
Do you prefer live TV most? Anita: "I like doing documentaries, but nothing beats the adrenalin and buzz of live TV. And the celebratory cold beer afterwards, especially being a Friday, tastes divine." James: "It's a buttock-clencher, that's what live telly is! There's nowhere to hide and for a guy like me with dyslexia, it's not easy – we keep having to tweak the autocue so Anita can read it for me. But I'm enjoying myself and looking forward to getting outside a lot for filming over August. I want to do some BBQ stuff and Anita's into her gardening so she can do that." Anita: "As long as you keep cooking for me I'll be happy. I love cooking myself so I'm genuinely hoping to pick up tips from James."
Are rumours of a cook-off between you both true? Anita: "It is! I'm up for it. Could I give him a run for his money? Well, as someone who'd never danced before, but did Strictly anything's possible." James: "Oh really? I need to see your cookery skills…"
If there's a cook-off, maybe you should also do a dance-off? Anita: "Boom! You said it, TV Times – that's happening!" James: "It's not! I did Strictly 11 years ago and my dancing days are over. My knees hurt. I'll stick with the sofa!"
Interview by Rebecca Fletcher
Get the latest updates, reviews and unmissable series to watch and more!
Thank you for signing up to Whattowatch. You will receive a verification email shortly.
There was a problem. Please refresh the page and try again.