James Norton blacked out while filming the BBC's Lady Chatterley's Lover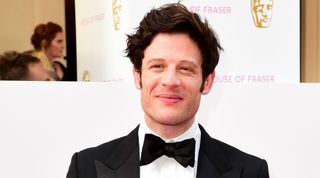 James Norton has revealed his role as Sir Clifford Chatterley in the new BBC reincarnation of DH Lawrence's controversial novel was so physically taxing that he blacked out.
In Lady Chatterley's Lover, James' character infamously spends the majority of his time confined to a wheelchair, half-paralysed because of an injury sustained in the trenches of the First World War.
The Happy Valley and Grantchester star found himself challenged when he filmed a scene of his character undergoing a treatment involving electric shocks.
"It was quite tough, both physically and emotionally," the actor said at the show's launch in London.
James Norton (Dominic Lipinski/PA Wire)
"The physical thing was quite terrifying – I actually had a weird moment. I kind of blacked out at one point and I didn't know where I was. I've never experienced it before."
James joked he could appreciate the practical side of an on-screen blackout, saying: "There was one moment when I kind of had to take a bit of a breath. I hope that was used in the edit."
The London-born actor admitted sitting in the wheelchair proved to be another challenge.
"It is a very bizarre thing when you're short of time and can't stand up and walk to the loo," he said, adding: "It was a very eye-opening experience for me personally to sit in that wheelchair hours on end."
Richard Madden and Holliday Grainger will play lovers in the BBC adaptation (Todd Williamson/Invision)
BBC One's new drama, which has been adapted by Jed Mercurioe, also stars Holliday Grainger as Sir Clifford's wife Constance and Richard Madden as her lover gamekeeper Oliver Mellors. Viewers expecting racy scenes may well be surprised with the latest adaptation, which is more focused on the tender love than the explicitly sexy love triangle between the three characters.
Mercurio explained: "It doesn't excite me, as a writer, to write some swearing or sex scenes, because they don't have emotional content.
"I wanted to go back to them (Constance and Clifford) falling in love, I wanted to see what they expected the future to be."
He also revealed he chose to ignore previous film adaptations of Lady Chatterley's Lover, saying: "My only real relationship was with the book."
Lady Chatterley's Lover will screen on BBC One in September.
Get the latest updates, reviews and unmissable series to watch and more!
Thank you for signing up to Whattowatch. You will receive a verification email shortly.
There was a problem. Please refresh the page and try again.