Jamie Dornan & Cillian Murphy land leading roles in new WW2 film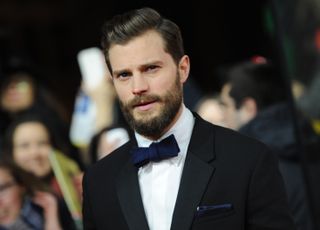 (Image credit: DPA/Press Association Images)
Two of telly and film's brightest stars, Jamie Dornan (The Fall, Fifty Shades of Grey) and Cillian Murphy (Peaky Blinders, Batman Begins) are to co-star together in new fact-based Word War Two movie, Anthropoid.
Deadline.com reports filming on Anthropoid begins in Prague on July 13th. With Jamie, 33, and Cillian, 38, starring as Jan Kubis and Josef Gabcik, two Czechoslovakian soldiers selected to assassinate SS head honcho, Reinhard Heydrich.
Known as 'The Butcher of Prague, Heydrich was the third most important man in the Third Reich's chain of command, after Heinrich Himmler and Adolf Hitler. He was also instrumental in orchestrating the Nazi regime's 'Final Solution'
Sean Ellis, who will direct the movie about the exiled Czechoslovak soldiers trained up by British forces and returned to their war torn homeland to assassinate Heydrich, told screendaily.com:
"I feel incredibly proud to bring the story of Anthropoid to the big screen. I have been fascinated by the story for the last 14 years and find it immensely humbling to explore the bravery of the men and women of the Czech resistance who sacrificed themselves for the freedom of their country while dealing a blow into the heart of Nazi Germany.
He added: "In the Czech Republic, It is a story of great national pride and it's time to tell the world that story."
BBC Two has confirmed Jamie Dornan will be returning for a third series of The Fall with Gillian Anderson. The channel has also recommissioned Peaky Blinders for a third series, although Cillian Murphy's return has yet to be officially confirmed.
Get the latest updates, reviews and unmissable series to watch and more!
Thank you for signing up to Whattowatch. You will receive a verification email shortly.
There was a problem. Please refresh the page and try again.