Jason Manford on why he loves it when kids embarrass their parents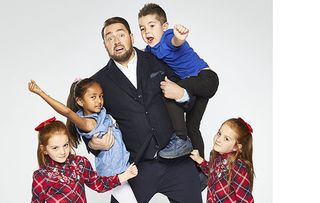 Comedian, actor and dad of five, Jason Manford, returns with his ITV game show, What Would Your Kid Do? and reveals he loves it when things don't go to plan
When it comes to children, parents like to think they know their offspring pretty well but as comedian and dad of five, Jason Manford knows only too well, little ones are constantly full of surprises.
"I think it's fair to say none of us know our kids as well as we think we do", chuckles Jason who returns with a second series of the child psychology game show which sees parents attempt to predict how their children will respond to a series of fun challenges.
Here Jason Manford, who's also looking forward to hosting the Olivier Awards in May, tells TV Times why he loves it when things don't go to plan and why his own childrens' honesty can be disarmingly brutal...
TV Times: Which challenges from the series to you enjoy the most?
Jason Manford: "I love anything when you say to a kid, 'Don't look in that box, or don't peek in there' and they look you right in the eye and go, "No" and then you leave the room and they just can't resist! All the tests are put together by child psychologists so they've been properly thought through."
TVT: Tell us about the test that challenges the children's honesty...
JM: "We gave the kids a cake that an older lady they'd bonded with earlier had baked. It looked delicious but the jam had anchovy paste in it. When she asked the kids if they liked it you could see them wrestling with whether or not to be honest. Should they fib and say it was nice, or tell the truth and say it was horrible and risk upsetting her? Even as a grown up I think you'd tend to go 'Yes, lovely cake that' especially if you think you're never going to see that person again!"
TVT: Children can be brutally honest though can't they?
JM: "Definitely, just before Christmas I heard my daughter shouting to me, 'Dad, you're on the telly!' And I thought, 'I'm sure I'm not, what am I doing on the telly at 2pm in the afternoon?' I went in and there was a guy who was about 24 stone on with dark hair like mine. It was an advert on Channel 4 for Obese: A Year To Save Your Life. I thought, 'Oh my goodness, I need to go on a diet!"
TVT: What do you think you've learnt from doing the show?
JM: "Well I've certainly learnt we don't know our children as well as we think we do, nobody does! Children are like a safe that somebody changes the combination on every day. I go to my kids' parents evening and they give me the report and I read it thinking, 'I think you've given me the wrong one, this is not my daughter!'"
TVT: Do you enjoy the psychology aspect of the series?
JM: "Yes, and I've learnt so much from that too, especially about the cognitive ability of kids. For example before the age of 4 or 5 the idea of sharing is an alien concept to a child. The part of their brain that says it's is a good thing just isn't developed before then. It's good to know that it's not just your child being a little bastard, it's science and there's nothing you can do about it."
TVT: What incidents have there been where parents have been shocked by their children or you yourself have been shocked?
JM: "Every episode! The ones I love is when the parents turn up thinking they've got a real cherub, 'My son can do no wrong!' In fact I think that happens in the first episode. People quickly realise they don't know their children as well as they thought but at the same time they also realise that it's perfectly ok, we're all in the same boat!"
TVT: It's the kids who get to choose the prizes at the end rather than the parents. Does that ever cause trouble?
JM: "Most of the parents take it on the chin, that's the game, but we've had a couple of parents who are visibly fuming when their kids have chosen a toy unicorn or whatever rather than the family holiday abroad. I get some humour from the fact that every time they go past that toy in their child's bedroom they'll look at it and go, 'We could have been in Dubai!'"
TVT: Have their been misunderstandings?
JM: "Yes, The little girl in the first episode gets the chance to win a spa break for her parents and she's confused because she's thinking of Spar the supermarket so I have to explain. For me as a comic working with kids is a dream. When I'm on tour I always chat to the front row of the audience, my brain is always ticking over but with kids, they press buttons that are never normally pushed and you have to adapt to them and what they might or might not say."
TVT: Do you watch the show with your own kids?
JM: "I do, they all absolutely love it, they all want to be on it and I'm like, 'Nope! That's not going to happen!' I think what's really nice about it is you also watch it in different ways, you either watch and think, 'I wonder what my child would do?' or you might not have kids and you can think, 'I wonder what I would have done when I was a kid?'"
TVT: What do you love most about doing the show?
JM: "It really is one of my favourite jobs because everybody seems to be media trained these days. Even when you see people in the street doing interviews, they seem to be on it, they know where the cameras and microphones are, what to say and what not to say, but children haven't got that yet and that's what's really beautifully innocent about it."
What Would Your Kid Do begins on Sunday, 24 March, ITV. Jason will also be hosting the Olivier Awards being broadcast on ITV in May
Tess is a senior writer for What's On TV, TV Times, TV & Satellite and WhattoWatch.com She's been writing about TV for over 25 years and worked on some of the UK's biggest and best-selling publications including the Daily Mirror where she was assistant editor on the weekend TV magazine, The Look, and Closer magazine where she was TV editor. She has freelanced for a whole range of websites and publications including We Love TV, The Sun's TV Mag, Woman, Woman's Own, Fabulous, Good Living, Prima and Woman and Home.

Get the latest updates, reviews and unmissable series to watch and more!
Thank you for signing up to Whattowatch. You will receive a verification email shortly.
There was a problem. Please refresh the page and try again.