JeruZalem (2015) | This Israeli horror brings an inventive twist to the found footage genre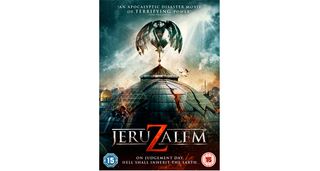 On Judgement Day, Hell shall inherit the Earth.
Two American girls on vacation follow an anthropology student (Yon Tumarkin) on a trip to Jerusalem. Staying in a hostel run by the pot-smoking Omar (Tyrant's Tom Graziani), the girls' party is cut short when they get caught in the middle of a biblical apocalypse. Trapped between the ancient walls of the holy city, the girls and their new friends must survive long enough to find a way out as the fury of hell is unleashed upon them…
Written and directed by Israeli film-makers Yoav and Doron Paz, JeruZalem brings the found-footage genre bang up-to-date by using Google's new smartglasses technology as their POV device to follow our clueless heroines, played by Jane the Virgin's Yael Grobglas and newcomer Danielle Jadelyn, as they face an army of dark angels in one of the most mystical and religious cities on the planet.
'For years we were thinking about making a zombie movie in Jerusalem. We always thought that this city is the best setting on earth for the end of the world.' The Paz Brothers
JeruZalem arrives on VOD/digital platforms on Monday 28 March, before heading to DVD & Blu-ray on 4th April 2016, courtesy of Solo Media and Matchbox films.
http://www.youtube.com/watch?v=QFKcSpYF3Jw
Thank you for signing up to Whattowatch. You will receive a verification email shortly.
There was a problem. Please refresh the page and try again.