Jessica Hynes displays her dual personalities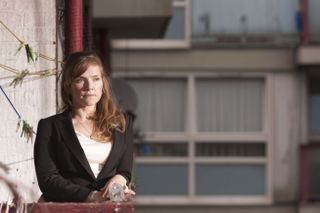 (Image credit: Patrick Baldwin)
Jessica Hynes talks about her return in BBC2's Olympics comedy Twenty Twelve (Friday) and her appearance in new BBC1 drama One Night (Mon-Weds & Fri)... What's coming up in Twenty Twelve? "Well, my favourite episode this time sees my character, Head of Brand Siobhan, launch a safe sex campaign for the Olympic entrants. She wants to provide them with packs containing flavoured condoms. It's pointed out that many countries are Catholic and that this might be a very fast way to offend people, but she runs with it and even employs a rapper to create an accompanying track." What do you love about the show? "It's typically British. We always undercut ourselves and make the joke before someone else does, that is our forte. It is not so bitingly satirical as something like The Thick of It, but it has an intelligence to it." Do you like Siobhan? "I love her confidence. Her viewpoint is that if she doesn't know who someone is then she shouldn't need to know, she is just supremely self-assured and composed." Have you had feedback from the real Olympics planners? "I think Seb Coe enjoys the show. He guest stars again in the first episode and he comes out of it quite well, we don't go for him. The Olympics is fertile ground for comedy though and I'm sure the writer John Morton spends a lot of time imagining what could go really go wrong for the real-life planners, so there are parallels." Tell us about One Night? "It's about one evening's events seen from different points of view and it was my dream job. I play Carol, a hard-working single mum and the third episode is seen from her perspective. I really like the character a lot, I felt like I knew her, there aren't that many parts that are so fun and challenging to play and I've not done anything like it." Will it make people think? "Well, I think it might confound the audience's expectations because it will be suspenseful, but it is also a window into another world. It feels real but unusual and it's an idiosyncratic slice of London society. The writer is a real Londonphile and wanted to show different perspectives and different classes." Do you get recognised much? "I don't, which I enjoy. People do come up if they have something nice to say, but I remember a few years ago I was in a nursing drama and I was walking across the road and a cabbie shouted, 'You're in Staying Alive aren't you?' I turned around and smiled, expecting him to say something complimentary, but he said, 'Never watch it.'" What do you enjoy watching on TV? "I loved Call the Midwife. It is lovely to see Miranda Hart do something different that shows her more as a comedy actress as opposed to a comedy performer because I think she has got a lot of strings to her bow."
Get the latest updates, reviews and unmissable series to watch and more!
Thank you for signing up to Whattowatch. You will receive a verification email shortly.
There was a problem. Please refresh the page and try again.