Jimmy Carr finds 8 Out Of 10 Cats... taxing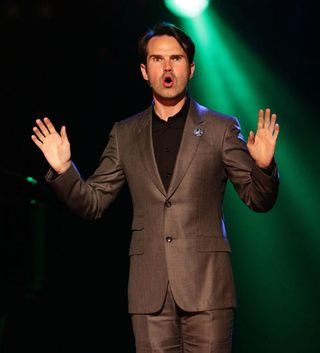 (Image credit: PA Wire/Press Association Images)
Jimmy Carr is the butt of the joke as he admits the row over his tax affairs was 'entirely my fault' on his TV show 8 Out Of 10 Cats. The comedian presents the Channel 4 comedy panel game tonight (Friday) for the first time since the news broke about him using a complex scheme to avoid paying HM Revenue and Customs. His fellow panellists tease him mercilessly about his domination of the headlines this week, with team captain Sean Lock telling him: "We all like to put a bit of money away for a rainy day, don't we? But I think you're more prepared than Noah." Prime Minister David Cameron joined the chorus of criticism of Jimmy, whose tax arrangements were disclosed in The Times on Tuesday. Following this, Jimmy issued a statement apologising, saying he had 'made a terrible error of judgment'. But that didn't stop his fellow comedians turning their rapacious wit on him during filming. When he heard Jimmy was on the front pages of newspapers, Sean joked he feared much worse. He said: "I was expecting to see one of those white police tents in the background and a copper holding a laptop in a see-through carrier bag." Jimmy replied: "I've been dishing it out for years, it's about time I got some." He continued: "I hate to sound like I'm passing the buck, but I'll tell you who I blame for this whole mess - me. It's entirely my fault." Yesterday Jimmy wrote a statement on his Twitter account apologising to his fans. He wrote he met with a financial advisor who asked: "Do you want to pay less tax? It's totally legal." He went on to write: "Although I've been advised the K2 Tax scheme is entirely legal, and has been fully disclosed to HMRC, I'm no longer involved in it and will in future conduct my financial affairs much more responsibly. Apologies to everyone." 8 Out Of 10 Cats screens on Channel 4 at 10pm tonight.
Get the latest updates, reviews and unmissable series to watch and more!
Thank you for signing up to Whattowatch. You will receive a verification email shortly.
There was a problem. Please refresh the page and try again.