John Simm: 'Not even my wife had heard my American accent before Intruders!'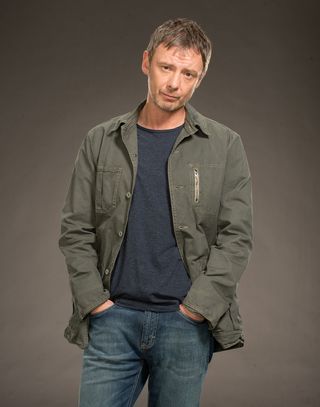 TV & Satellite Week (opens in new tab) talks to John Simm (opens in new tab) headling in an intriguing new US drama Intruders (opens in new tab) about a troubled marriage and a mysterious secret society (premiers Monday, BBC2).
Intruders sets up some tantalising mysteries, doesn't it?
"I like the fact that you don't have any answers for a while. Three episodes in, you're still thinking: 'What is going on?' But hopefully it draws you in and you want to find out. Intruders rewards patience and treats the audience as intelligent – that's what I love about it."
Your character Jack, a former LAPD cop, seems quite complex, with a hidden back story?
"In Intruders, nothing is as it seems, and nobody is what they seem. Jack appears to be hero in the audience's eyes, but he's kind of an anti-hero when you find out more about him – there's a dark side which he utilises and comes in very handy."
You seem to have a knack for choosing quality projects to work on – from State of Play to Life on Mars?
"I'm drawn to good writing, but lots of things attract me to a job. The director of photography, the producers, the writer – you need to know it's in good hands when you leave it. I can only do so much, but it's my face on screen, and the quality running through this show is second to none."
How did you get on with doing an American accent on TV for the first time?
"You automatically think you can do an American accent because you grew up with it – I was always running around being Starsky and Hutch. This was the first time I'd ever done an American accent in front of anyone – not even my wife had heard it. And I was being recorded, sat next to Oscar-winner Mira Sorvino, with Americans everywhere. I was sweating and I also had jet lag. But hey ho."
Why are so many Brits headlining American shows these days?
"If you're going to get someone to front a show – like Dominic West or Andrew Lincoln – they're great actors and established, but they're not that well known in America. Also there's a certain lack of cynicism in the States – they want it to be great, whereas back home you have to prove yourself. Hugh Laurie is a great example of this – before House he was known as a very posh comic actor."
Did the American crew on Intruders know you from your TV work?
"Doctor Who was a biggie. But also the films 24-Hour Party People and Human Traffic – I was surprised how many people in Vancouver had seen them. The world is so much smaller now, and of course everyone can see everything."
Intruders features children in peril. Is there material you won't watch now you're a parent?
"I can't watch things like Saw, where people break into a house or kids are being kidnapped. I just can't go there because you think about your own kids, and the opening scene of this series is really disturbing and dark in that way."
What do you watch on telly?
"I watch football and Father Ted. I know every line of every episode. I also love Antiques Roadshow – I get a lot of stick for that. I don't watch Bake Off or any of that nonsense, but I do binge-watch box sets of shows like Breaking Bad and The Killing. And I love reading – Stephen King and Charles Dickens."
Do your kids watch you on TV?
"They are old enough, but they don't. Even if they know The Village is on, they don't come downstairs and watch it. My son Ryan could watch my stuff but chooses instead to watch Andy Lincoln in The Walking Dead. He hasn't even seen Life on Mars!"
What's next for you?
"I'm playing the real-life scientist who discovered DNA fingerprinting in a really interesting story about this serial killer in the late 1980s. My old friend David Threlfall plays the policeman who approached him for help with the case."
Get the What to Watch Newsletter
The latest updates, reviews and unmissable series to watch and more!