Wow! See John Travolta as you've never seen him before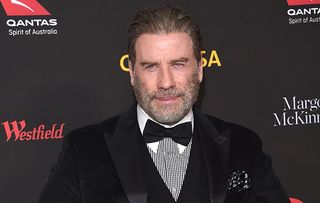 (Image credit: SilverHub/REX/Shutterstock)
The Grease actor has completely transformed
John Travolta is a long way from Danny Zuko in his latest role as the actor transformed into a psychotic stalker for new film Moose.
The movie sees John play a fan who is obsessed with action star Hunter Dunbar – played by Devon Sawa – and becomes unhinged after a bad meeting with the actor.
And the 64-year-old might have shot to fame as an ultra cool T-Bird in Grease, but he's swapped his leather jacket for a rather dodgy shirt while filming for the thriller.
Donning a colourful Hawaiian style top with pictures all over it, John finished the characters look with some metal glasses, white trainers and a backpack.
Sharing the dramatic transformation on Instagram, his co-star Ana Golja - who plays the character Leah - recently shared pictures from the set.
In one post, Ana and John can be seen posing in a handful of funny selfies as she wrote: "Moose and Leah are BBF's. #notbffs @moosemovie #JohnTravolta".
Meanwhile, another shot sees John's face bloodied down one side while there's also a stump in place of his right hand.
Next to the picture - which also includes director Fred Durst - Ana announced: "Thrilled to be working alongside legends @freddurst and #JohnTravolta on this new film!
"Cannot wait for you to meet "Leah"! #MOOSE #grateful #blessed @andreaiervolinoproducer @ambimediagroup".
Fans of the actress couldn't believe how different the Hollywood star looks, as one wrote: "Oh wow! He looks so different! Hope you're having a blast!"
While another said: "Oh wow i could not even recognize John!"
Filming for the movie started last month in Birmingham, Alabama.
And it looks like Hairspray actor John is enjoying his latest project after he recently told TMZ that working with Fred "may be my favorite experience I've had".
He said: "He's so generous, and he's such an artist and he allowed me to create a character that nobody else would allow. I mean, it's really a wild character and I felt very free to do that."
Main pic: SilverHub/REX/Shutterstock
Thank you for signing up to Whattowatch. You will receive a verification email shortly.
There was a problem. Please refresh the page and try again.