Johnny Vegas rants about unworthy winners at British Comedy Awards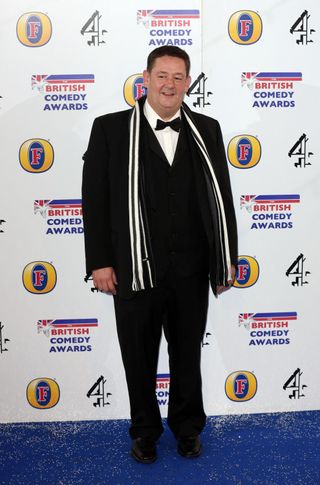 Johnny Vegas created drama at the British Comedy Awards by claiming some of the winners should not have won and that TV stations have a lot to answer for.
Johnny, who won Best Newcomer in 2001, unleashed his trademark rant as he presented the Writer's Guild of Great Britain Award to his sketch-writing hero Paul Whitehouse, whose credits include The Fast Show.
Speaking to an audience filled with British comedy talent and US Anchorman actor Will Ferrell, who won the International Achievement award, Johnny said:
"Tonight is not about slagging off the sponsors or giving an international award away to someone just because he was here.
"Tonight is not about sitting here and saying Paul (Whitehouse) put me in the show - and I won an award about nine years ago and haven't won f***ing anything since. Tonight is about what he has achieved and not me getting angry while I'm up here.
"It is not about the state of TV and the fact you won't commission anything fresh."
Having got into his stride as the crowd burst into fits of laughter, he added: "I would like to say there are people in this room that we don't admire. There are people in the room we don't think should have won. There is stuff which has been pushed through because of finance and Channel 4 feeling like the little brother compared to the BBC, but tonight is about Paul Whitehouse."
He rounded off with a 'genuine moment of sincerity' - describing Whitehouse as the 'godfather' of comedy.
"Paul's comedy compared to other people," he said - muttering 'The Office' under his breath - "does not make victims of anything and it does not claim that it is getting over boundaries."
To applause, he added: "Paul Whitehouse finds the joy and beauty in life, in people that you would not notice."
Get the latest updates, reviews and unmissable series to watch and more!
Thank you for signing up to Whattowatch. You will receive a verification email shortly.
There was a problem. Please refresh the page and try again.