Kate Humble on Arctic Live: 'To see a polar bear walking down the street would be so exciting!'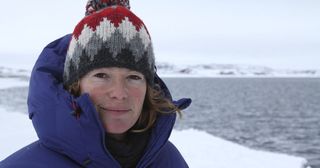 (Image credit: BBC)
For three nights this week, Kate Humble, Simon Reeve and Gordon Buchanan head north to the Arctic to explore what impact the modern world is having on its wildlife…
The Arctic is changing faster than anywhere else on Earth and, this week, BBC2's Arctic Live will be exploring how these changes are affecting the people and animals that live there. Kate Humble reveals more...
How are you feeling about going out to the Arctic for this week's Arctic Live? "It's quite exciting… and scary! There's something about the Arctic – it's almost a place of fable and legend and stories of amazing monsters, ice princesses and incredible explorers. Because of that, it's a place that's so captive in our imaginations and I think it's somewhere, even if we've never been to it that, oddly, we feel quite sentimental and emotional about."
What changes are occurring in the Arctic? "Well, aside from being home to polar bears, the Arctic has thriving communities that have discovered great reserves of oil, gas and iron ore. To extract that, you have to bring in infrastructure which, whether we like it or not, will potentially have an effect on polar bears, reindeer and other wildlife. In this series, we'll be exploring how the people of Churchill, Canada, have had to call a sort of truce with the wildlife that they share this extraordinary landscape with and also cleverly take advantage of it in the best possible way."
L-R Gordon Buchanan, Kate Humble and Simon Reeve will be bringing all the live action from the Arctic
Over three nights, Simon Reeve, Gordon Buchanan and yourself will be coming live from the small town of Manitoba in Churchill, where residents literally have polar bears on their doorstep. How are you feeling about the possibility of seeing one up close? "I've never seen a polar bear in the wild, so to see one walking down the street would be one of the most exciting experiences ever! We must remember, though, that polar bears are wild animals that are extremely dangerous, and Churchill now has brilliant ways of dealing with the ones that creep into town."
Kate will be out on a tundra buggy watching for polar bears... we don't see any chains though!
Will you all be based in the town? "No. Simon will mostly be based there – I'll be out on the tundra in a buggy alongside Gordon, where we'll hopefully get to see some wonderful polar bears in their natural habitat. Though I think the production team want to chain me to the buggy because they know I'll be off running across the tundra after the bears!"
We know you'll be watching as the polar bears wait to go on their annual hunt for food. How have things changed for polar bears in the Arctic? "Well, increasing temperatures mean that the sea ice is melting sooner in the spring and it's taking longer to form in the autumn. The real peril for polar bears is that the sea ice may disappear altogether or their hunting season is cut short, so they don't have enough food to be healthy enough to breed, then raise healthy cubs afterwards. This is something everybody's monitoring really carefully."
A lone polar bear waits for the sea ice to form so it can begin the hunt for food...
Running alongside the live coverage will be pre-recorded films exploring life in the Arctic. Don't you visit an iron ore mine in Sweden? "Yes, I went up to the Kiruna mine, which supplies 90 per cent of the iron ore that Europe uses, so it's hugely important for industry throughout Europe and hugely important for the Swedish economy. However, for thousands of years, this area has also been one of the migratory routes for reindeer and the traditional people of the Scandinavian Arctic, the Samis. The mine has cut through those migratory routes and that's having an impact on the Samis ability to be able to successfully rear their reindeer. Their livelihood is wrapped up in the health and wellbeing of these animals and so, if they can't migrate, then that has a real impact on the Sami way of life."
What does the future hold for the Arctic? "That's a really big question and I almost hesitate to answer it. If I'm honest, there are lots of things that make me feel pessimistic; I saw many things that made me feel properly scared about the future of this critical habitat. There are lots of things we can't change, lots of things we can't reverse - but I'm hoping that the 'love story' that exists between us and this amazing part of our planet means we'll do all we can to try and protect it."
One last thing… how do you prepare for the cold weather? "Ha, ha! I have a lot of merino wool underwear – knickers and everything! I always go well prepared. I also take a lot of Bovril with me – Bovril in a flask gets you through everything!"
Arctic Live starts on Tuesday November 1 at 8pm on BBC2.
Get the latest updates, reviews and unmissable series to watch and more!
Thank you for signing up to Whattowatch. You will receive a verification email shortly.
There was a problem. Please refresh the page and try again.