Keeley Hawes: I was so relieved because The Durrells' scripts are even better this year!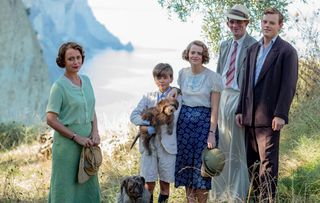 (Image credit: Laurence Cendrowicz)
The Durrells' star Keeley Hawes promises that the second series of the ITV hit has even better scripts, as she reveals her favourite animal and Louisa's new man
With its crystal blue waters, warm sunshine and stunning vistas, hit ITV drama The Durrells makes Corfu looks utterly idyllic. Sitting on a bright terrace chatting to star Keeley Hawes and enjoying a cool breeze, TV Times can confirm it's not camera trickery – the island is just as magical as the Sunday night series would have you believe.
Here, Keeley tells us more as the show returns to our screens...
Are you pleased to be back for series two? "I didn't need any persuading to come back! I feel quite smug because my husband, Matthew [Macfadyen] is filming at Pinewood Studios right now. I had to think of sunshine and pelicans all the way though my last shoot, which was The Missing, because the subject matter was so grim. The weather has been quite interesting this time though, we had a couple of days of Biblical rain, that's what makes it so green...'
Based on Gerald Durrell's charming memoir, My Family and Other Animals, The Durrells proved an instant hit with viewers when it aired last spring. So, did Keeley feel anxious about making the difficult second series? "There is always a worry – when something has been a bit of a success everyone says, 'Isn't it fantastic, well done… now do it again!' and you think, 'Oh God!' But I'm relieved because the scripts are even better this year."
https://youtu.be/CaImxSFC-Gg
As we rejoin the family in The Durrells they are more settled, but still scrimping and saving to make ends meet. Is Louisa licking her wounds still after her ill-fated relationship with farmer Sven, who eventually revealed he was gay? "She's not quite over him and she's feeling vulnerable. She's wondering if she will ever find anybody, even though there seem to be lots of gorgeous men around! She meets a man called Hugh this series, played by the fabulous Daniel Lapaine, but she has her doubts about him. Just when she starts thinking about giving it a go his ex-girlfriend causes all sorts of trouble… Just because it's the 1930s doesn't mean it's clear cut."
And what's happening with Louisa's self-centred brood? "There's no getting away from the fact they're a handful. I think we can all agree Louisa should just crack the gin out! The relationships are very real though, and one of the great things that we don't see on TV very often is the friendship between Louisa and Larry, her eldest son. My son, Myles, isn't quite as old, but he's 16 and we do have this fabulous relationship where we talk about things and I love that."
You also see your on-screen family behind the scenes? "There wasn't a week that went by where they didn't see each other or we didn't talk or text, we've been to birthdays and had dinners. I can honestly say there aren't two people who don't get along, it's such a unique thing. My family came out to Corfu for a week and stayed with me, and my three kids all think Milo, who plays Gerry, is pretty cool, because he's quite grown up and he's in the Miss Peregrine… movie!"
Has the show changed much from the original Gerald Durrell autobiographies? "The Durrells is loosely based on the books – no one is a bigger fan of them than me, but I wouldn't want to watch Gerry sitting on a mountain staring at a tortoise every Sunday night for an hour. In the book it's so beautifully drawn and I could read it for ages, but on television you have to make those changes to make it watchable."
And this series sees the arrival of your favourite character, the curious rose beetle man? "He's a deaf and mute chap Gerry meets walking in the hills, he comes in and out of the books, and he wears a hat with strings on it, with rose beetles attached. I can't wait for everyone to see him. We couldn't get stunt rose beetles, the cruelty factor would have been quite high! But it was my favourite scene, it was such a classic Durrells moment and everyone worked really hard to make it magical. It's wonderful, anyone who knows the books will gasp… others might just wonder who he is!"
Are there lots more animals in this series? "There are three times the amount than we had last year. There are animals everywhere – the pelicans are back, we've got magpies and goats and a new puppy. It's quite difficult to do anything when the puppies come in, nobody listens to anything you're saying. I had a scene on the mountains with Stephen Seagull listening to me the other day, and we have otters, but they don't travel ,so we have to film them in Shropshire."
What was your favourite? "Canaries, they're so sweet, we had some in the other day and they're really cute. I called home and asked if we could have some, but that was a no from Matthew…'
What response did you get from the first series? "The response last time was quite overwhelming. I got an email from a lady saying she had watched it every Sunday with her 94-year old mother and her nine-year old grandson and they all loved it. I won't get that letter about The Missing!"
The Durrells returns to ITV on Sunday, April 23
Get the What to Watch Newsletter
The latest updates, reviews and unmissable series to watch and more!