Kenneth Branagh: Just as Wallander appears to be sorting things out, life intervenes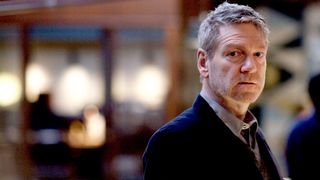 Sir Kenneth Branagh will be playing Swedish detective Kurt Wallander (opens in new tab) for the last time as the crime show returns to BBC1 for a final three-part series this Sunday.
We caught up with him to talk about playing someone with Alzheimer's, spending the winter in Scandinavia and giving Tom Hiddleston his big break...
Where do we find Wallander at the beginning of this series?
"He appears to be sorting out his life. He shaves, he combs his hair more. He seems to have a potentially satisfying relationship with a woman. His relationship with his daughter is much better, too. He adores being a grandad. But just at that point, life intervenes. There is additional poignancy in the fact things start to go wrong for Wallander at the very moment where he seems to be getting his life back together. It's at this moment that starts to worry that he's suffering from Alzheimer's, like his father."
What kind of research did you do before shooting scenes where Kurt is suffering from Alzheimer's?
"Many people have experience of dementia in their lives. A lot of the research became anecdotal from friends and family who have experience of it, in these poignant and absurd ways, where people end up in very unusual places. Whether it's a friend of mine who's father is very involved in his local golf club and a very upstanding member of the community, and is found wandering naked on the golf course, or someone who has never sworn in his life becomes almost Tourette's-like. It's a tiny example of the many shades of this illness."
What else is disturbing him?
"He has father issues. Perhaps inevitably, he is surrounded by images of his father. Povel spent his lifetime doing the same thing – painting the same image over and over again. Wallander is trying to understand whether that's a good thing. Writer Malcolm Gladwell says that you need to spend 10,000 hours on something before you can become an expert in it. Wallander's father spent 10,000 hours painting grouse, and Wallander has spent 10,000 hours policing. Maybe that has made him a very good policeman. But, he is now faced with thinking about that and considering what his life adds up to."
Why is The Troubled Man such an appropriate title for the final episode of Wallander?
"Wallander always was troubled. Henning Mankell enjoys his characters being ruminative and meditative. He enjoys them being troubled. He enjoys situation and plot, but mostly he enjoys what's happening in people's interior lives, particularly Wallander's. He believes his audience is interested in that, too."
Did Wallander author Henning Mankell join you on set?
"He was a combination of hands on – it mattered how they were done, he walked on to set once and after 10 minutes was like 'No it is good, it is good, I can tell within 30 seconds' – we didn't know we were under the 30-second test at the time thankfully!"
Did you spend much time with Henning before he passed away?
"Yes I did and he was a wonderful man. He handed me the final Wallander book and said 'Kenneth, you must do this!' He was the only person who ever called me Kenneth apart from my father."
Does the bleak Swedish landscape exacerbate Wallander's sense of isolation?
"The landscape is like another character. The size and space gives time to think. For good or ill, your imagination has freedom to roam. This area provides that."
Does the extreme weather shape people, too?
"Jesus Christ it's cold there in the winter, it really is! One of the first scenes we did was down at the docks and the wind was just bitter. Some poor fellow had to play a corpse with a T-shirt on. Unfortunately we didn't get to his close-up until four in the morning at which point we couldn't shoot it because he was shivering and rocking so much. We had to take him to a warm place quickly. People get ready for the winter and they disappear and it gets very eerie and there's a wild west thing going on…"
How about during summer?
"The Scandinavian people grab the summer. That mid-summer night never ends, literally because the sun never goes down. It's suddenly like you're an extra in The Wickerman. They're a hard and large drinking people. They're prone to getting their kit off in the winter anyway, so it certainly happens in the summer. Also at 4pm in the summer everything stops. Everything stops for six weeks in the summer.
"If you are one of the unlucky people who are working then you're certainly finished by 4pm. When we were working in the summer the crew would be desperate to get away pretty soon after lunch, they felt it wasn't civilized. They'd say: 'It's finished, let's go down to the beach. I have a bottle of a very stimulating spirit, so let's go have fun before the winter comes again!'"
Why has Nordic Noir become so popular?
"It's partly the rich atmosphere of somewhere completely different. In Britain, we tend to be reliant on being quick with words. We try always to come up with an answer and feel embarrassed if we can't find anything to say. Scandinavians don't so much. They often just look at you in silence, unembarrassed."
Tom Hiddleston says you gave him his big break, did you see him in The Night Manager and did you ever think he would become such a star?
"Many years ago Humphrey Bogart said it takes 10 years to become a star. In 2006 I saw him play Cassio in Othello and it was quite clear that he was an utterly naturalistic speaker of Shakespeare. I had never seen him before, but he made the character so effortlessly charming. He was so adept and adroit. It did feel like 'Boy this is the start of something'. Even alongside Chiwetel Ejiofor and Ewan McGregor and he really stood out against them.
"Then I went to America to do Thor and he came to audition for that and he did so with such drive and clarity, not arrogance and not over-ambition. I watched The Night Manager and, now, here is a star fully emerged!"
Watch a clip from the new series of Wallander (opens in new tab), which starts on Sunday, May 22 at 9pm on BBC1
Get the What to Watch Newsletter
The latest updates, reviews and unmissable series to watch and more!
Feature writer for TV Times, What's On TV, TV & Satellite Week and whattowatch.com
Sean has been writing about all things telly for over 10 years and in that time he's been lucky enough to interview stars like Ian McKellen, Tom Hardy and Kate Winslet. His favourite shows are The Great British Bake-Off, People Just Do Nothing and Succession and in his spare time he enjoys drinking tea, doing crosswords and watching football.