BBC2's King Charles III draws wildly divergent reviews from critics and viewers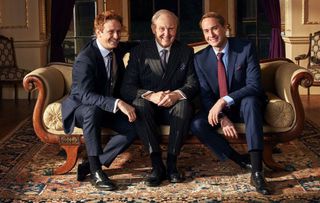 The BBC2 drama King Charles III, which imagines a world when the Queen has died, has received a VERY mixed reception
The BBC's controversial royal drama has sparked mixed reviews, with critics calling it both 'puerile fantasy' and a 'spot-on political thriller'.
King Charles III – adapted from a successful stage play – depicted the monarchy after the Queen's death, with the Prince of Wales succeeding his mother but sparking a constitutional crisis.
The one-off drama, on BBC2, featured the ghost of Diana and portrayed the Duchess of Cambridge as a 'schemer'.
The Daily Mail's Christopher Stevens awarded King Charles III zero stars.
He called the drama 'puerile fantasy', described the plot as 'ludicrous' and added that 'in the entire 90 minutes there wasn't a word of sense'.
He said that 'much of it was grindingly dull claptrap', criticised the 'phony Shakespearean verse' and concluded: "Shameful, vile, pathetic tosh."
The Sun's Andy Halls gave it two stars, writing: "This wasn't a drama, it was a comedy. Not a good one."
He added: "It felt as if the actors had been chosen more for their likeness to their character than their ability to play the part."
But The Telegraph called King Charles III 'majestic, unmissable drama' and showered it with five stars.
The newspaper's Jasper Rees branded it 'pure televisual gelignite' and added: "It may never be possible to view the Duchess of Cambridge in quite the same light, with Charlotte Riley riveting as a dark-eyed schemer goading her husband to patricidal treachery."
The Guardian's Sam Wollaston was also impressed, saying that there were 'some fine displays of acting' and that the late Tim Pigott-Smith, in one of his final appearances on screen, was 'mesmerising as Charles'.
For the most part, it is ''a spot-on political thriller that gains in momentum, tapping into phone hacking, asking questions about the role of the anachronism that is the royal family in the 21st century and about the importance of public image and popularity along the way", he wrote.
"It's funny… as well as apposite and tragic."
Viewers on social media called for Pigott-Smith to be awarded a Bafta for the performance while the show's creators dedicated the programme to him in the final credits.
But several fans disapproved of the scenes of Diana's ghost.
Get the latest updates, reviews and unmissable series to watch and more!
Thank you for signing up to Whattowatch. You will receive a verification email shortly.
There was a problem. Please refresh the page and try again.