Laila Rouass and Ellie Taylor fulfil their Disney princess dreams on The Lodge (VIDEO)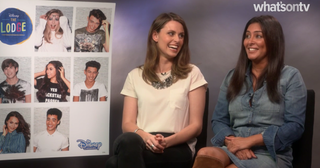 Disney The Lodge is a new musical teen drama filmed in Northern Ireland featuring the talents of ex Holby star Laila Rouass and comedian Ellie Taylor
New musical drama Disney The Lodge co-stars former Holby City star Laila Rouass and comedian Ellie Taylor as well as a talented teen cast – and they're delighted to be making their Disney debuts.
Ellie, a regular on Mock The Week and 8 Out of 10 Cats, joked: "I'm very happy to be a Disney princess at the age of 32. My dreams have come true. Thank you Mickey Mouse."
She explained that Disney The Lodge Disney 'is a new show where a young girl called Skye (Sophie Simnett) is going back to the family's hotel after the death of her mum, so she's moving back with her dad, she's got to make new friends, make new relationships, [there's a] bit of a love triangle going on, so it's a really lovely coming of age story, plus it's all singing and dancing."
Ellie plays TV producer Christina, who's making a reality show within the main show which stars the daughter of Laila's character, Olivia. But their on-screen time together is limited. Just as well...
"We only have one scene together," explained Laila. "They're two fiery woman, they have their own agendas, so it's never going to go down well, the two of them together."
In fact, a new revelation about Ellie's role was causing a rift.
Ellie said: "I do a dance routine, Laila is very jealous."
Laila responded: "I only found out today as well, it's not like I knew this before!"
"They knew she'd go mad," joked Ellie.
"Absolutely mad."
Laila explained what drew her to the 10-part series which continues the long line of Disney musical dramas like High School Musical.
"For me as a mum it's great to do a show that my daughter [aged 9] can watch. It's really well written, it's glossy, I love a bit of glamour, it's all there. And it's got these fabulous, talented kids and they're new. It's new, fresh blood and it's exciting to be around them. They're really inspirational."
Disney The Lodge screens on Disney Channel, Fridays at 5.30pm from September 23
Get the latest updates, reviews and unmissable series to watch and more!
Thank you for signing up to Whattowatch. You will receive a verification email shortly.
There was a problem. Please refresh the page and try again.