Leaving's Helen McCrory talks toyboy trouble!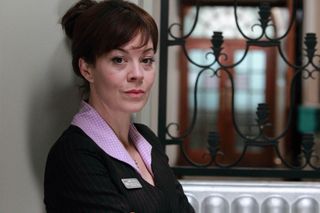 Helen McCrory - best known for playing Cherie Blair in The Queen - stars in ITV1's new age-gap drama Leaving. Here, she talks about forbidden love and being a working mum... Tell us about Julie, the character you play in Leaving... "Julie is a 40-something wife and mother who has turned her back on the humdrum reality of her own life by throwing herself into the vicarious fantasy and joy of other people's marriages." At one wedding, Julie meets 25-year-old guest Aaron (played by newcomer Callum Turner), who's also stuck in a rut. Do they form a bond? "It's not love at first sight the moment they meet each other, but they're both quite solitary people, introverts who feel distanced from their surroundings. Neither of them is used to being listened to either, so they are kind of drawn to each other." They actually begin a very passionate affair, don't they? "In the beginning, they don't see each other as people who will become lovers, so the whole thing takes them by surprise. Then they have to deal with the spiraling consequences of their actions..." It sounds like things can only end in tears... "There is humour in the drama. It's potentially a very sad story, but it's told in a light way and there's a lot of beauty in it." What appealed to you about the script? "I liked how it didn't just look at the problem of age difference because we're used to that now, it's not shocking any more. This is a really fresh story about a romantic and aspirational woman who falls in love with a younger man yet has all the complications of being married with two children." How do you and your husband - Homeland star Damian Lewis - juggle successful careers with two young children? "Well, when the children were first born I was always there - my pregnancies were both close together, so I was constantly either lactating or making another child! So it was wonderful that Damian was working in LA because we were living by the beach with the children and it was such a privilege not having to worry about money because he was working. We were very lucky and since we've come back to England, we've balanced work and parenting between each other." Leaving starts on Monday, September 10 at 9pm on ITV1.
Get the latest updates, reviews and unmissable series to watch and more!
Thank you for signing up to Whattowatch. You will receive a verification email shortly.
There was a problem. Please refresh the page and try again.