Lenny Henry: 'Godfrey's incredibly OCD about numbers in The Syndicate' (VIDEO)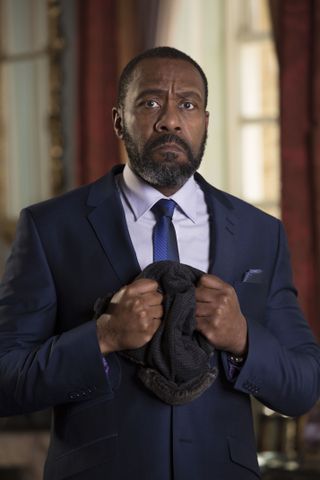 (Image credit: BBC/Rollem Productions)
Lenny Henry has talked about his new role, playing a man with Asperger's syndrome, in the new series of The Syndicate.
The comic plays Godfrey, the gardener of a rundown stately home, in the third series of the lottery drama, which returns to BBC1 next week.
"Godfrey's incredibly OCD about numbers," Lenny told whatsontv.co.uk about the character. "He's been studying the winning lottery numbers for the last 10 years, so he has every number sequence memorised and written on the walls all over his house."
In the opening episode, Godfrey's certain he knows what the winning numbers will be that week and tells the other members of Hazelwood Manor syndicate - cook Julie (Melanie Hill), cleaner Dawn (Elizabeth Berrington), housekeeper Sarah (Cara Theobold) and gamekeeper Sean (Richard Rankin) – that they must buy a ticket.
But, as Lenny revealed, things don't quite go to plan. "They do win," he said, "but not because of anything that Godfrey does!"
To prepare for the role, Lenny visited Leeds Autism Centre to meet people living with Asperger's syndrome. "The Asperger's spectrum is quite a broad spectrum," said Lenny. "There are extremes of behaviour and Godfrey's somewhere in the middle."
The staff can't believe they've scooped £14.5 million on the lottery – but their dream becomes a nightmare when Dawn's diabetic daughter Amy goes missing. Does Godfrey know where she might be?
"Godfrey's a very sweet man," said Lenny. "I don't think he's got a bad bone in his body. But it would be easy to think he did have because he's big and he gets loud if he gets a bit freaked out by things sometimes.
"There are plenty of red herrings strewn around in this show – and Godfrey's one of them..."
The Syndicate begins on Tuesday, June 2 at 9pm on BBC1
Get the latest updates, reviews and unmissable series to watch and more!
Thank you for signing up to Whattowatch. You will receive a verification email shortly.
There was a problem. Please refresh the page and try again.