Ann Widdecombe: One consultant told us he expected the NHS to implode within five years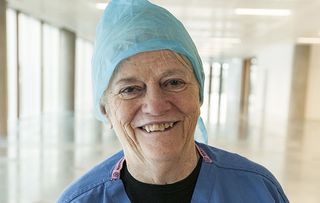 (Image credit: BBC/Eddie Stafford)
Ann Widdecombe on her eye-opening look at life on the frontline of the health service in Celebrities on the NHS Frontline
In July 1948, Health Secretary Aneurin Bevan launched the National Health Service, bringing free healthcare to all. Now, as it clocks up its 70th anniversary and faces its greatest challenges to date, what is it really like to work within our amazing but over-stretched NHS?
In BBC1's two-parter Celebrities on the NHS Frontline, Ann Widdecombe, Johnnie Peacock, Stacey Dooley and Michael Mosley, who each have personal connections to the NHS, shadow staff at London's King's College Hospital to examine at first-hand the pressures they face.
Here, former Shadow Health Secretary Ann, 70, tells TV Times what she witnessed in Celebrities on the NHS Frontline…
TV Times: Why did you want to take part?
Ann Widdecombe: "I've always had strong views on the NHS as I think we have a system that is not sustainable. When Bevan set it up, he didn't foresee what was going to happen 70 years hence. He assumed that as we got healthier because of the NHS, demand would decline, whereas medical science has sent it towards infinity. So I wanted to experience the situation myself."
TVT: You spent time in the hospital's Urgent Care department, what did you do there?
AW: "I didn't do bedpans but I'd have been happy to. I did some elementary diagnoses and a few tests but under strict supervision. I wasn't just let loose on the patients! But the staff were very pleased with my diagnoses! One chap had a cut finger and I said that he didn't need proper stitches and that I thought nothing was broken. And they said I was right."
TVT: You also explored the problem of bed shortages…
AW: "I saw how chaotic bed management is. Staff are under pressure because they have targets to get so many patients into beds within a certain time but that's nonsense! I'd get rid of targets because if you have two patients, the issue should be about whose need is greater not who has waited longer. But also, I found that some patients' families are unhelpful. One nurse told me a man was ready for discharge and his wife said, 'Keep him, I want a divorce!'"
TVT: Did you come away with admiration for the staff?
AW: "Yes, especially Emma the bed manager, who has devoted her life to the NHS. The day always started hopelessly with only about three patients ready for discharge and they needed 30 beds. But somehow it got done. She was remarkable."
TVT: You worked at a cottage hospital in the 1970s, how have things changed?
AW: "As a student I worked there every holiday as a domestic and helped the nursing auxiliaries. It was completely different to this. Everything was calmer. The ward sister was the boss and would tell a nurse if a drip was empty or a patient hadn't eaten. Now, they're ordering bandages or helping out with a shift rather than supervising. But you need somebody running the show."
TVT: Did your views on the NHS alter after filming Life on the Ward?
AW: "No, they were reinforced. I said 20 years ago that it can't last because it's under too much strain. We all value the NHS but I hope viewers come away with an acceptance we have to change it. One consultant told us he expected it to implode within five years. The government will go on putting a plaster over the cracks. But eventually it has to say, 'Sorry we got this wrong, now we have to get it right.'"
TVT: What is next for you?
AW: "I have got a pantomime in Redhill at the end of the year, which is lovely. I am playing the Wicked Queen in Snow White, I love playing the villain! I have done pantos with Craig Revel Horwood playing the Wicked Queen before so I got all the tips I needed from him!"
Celebrities on the NHS Frontline airs on Thursday 28th June at 9pm (Not Wales) on BBC1
Get the What to Watch Newsletter
The latest updates, reviews and unmissable series to watch and more!
Caren has been a journalist specializing in TV for almost two decades and is a Senior Features Writer for TV Times, TV & Satellite Week and What's On TV magazines and she also writes for What to Watch.
Over the years, she has spent many a day in a muddy field or an on-set catering bus chatting to numerous stars on location including the likes of Olivia Colman, David Tennant, Suranne Jones, Jamie Dornan, Dame Judi Dench and Sir Derek Jacobi as well as Hollywood actors such as Glenn Close and Kiefer Sutherland.
Caren will happily sit down and watch any kind of telly (well, maybe not sci-fi!), but she particularly loves period dramas like Call the Midwife, Downton Abbey and The Crown and she's also a big fan of juicy crime thrillers from Line of Duty to Poirot.
In her spare time, Caren enjoys going to the cinema and theatre or curling up with a good book.