Lily Cole plays Queen Elizabeth I, but says: 'Fundamentally I don't agree with royalty'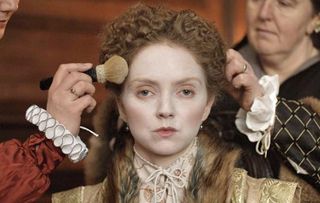 Actress and model Lily Cole is playing one of Britain's greatest royals, but admits she strongly disagrees with power through birth
Lily Cole said she does not agree with the monarchy, despite playing a royal in a new TV series.
The actress and model, who stars in Elizabeth I: Battle for the Throne (Channel 5, Tuesday, May 9) as the Tudor monarch, said the institution of a royal family is not the 'fault' of those who happen to be born into it.
Lily, 29, told Radio Times: "It's not their fault they were born into these positions.
"And I'm sure it brings them complications and difficulties as well as a lot of benefits. But the institution connects us to a feudal age of hierarchy and power through birthright."
She added: "Fundamentally, I don't agree with it."
Lily, who rose to fame as a model in her teens and has a double first in the history of art from King's College, Cambridge, said her only knowledge of Elizabeth I was from paintings and that her appearance was part of the attraction of taking on the role.
She said: "The only real knowledge I had of Elizabeth prior to doing this was through the contemporary portraits.
"So in many ways the attraction was through her image, not just the paintings themselves but the image in our imagination of Elizabeth as an almost mythological part of English history."
Channel 5′s docudrama series Elizabeth I: Battle for the Throne tells the story of her time on the throne from 1558 until her death in 1603.
Lily expressed her support for the Green Party ahead of the forthcoming General Election.
She said, of the party's joint leader: "I think Caroline Lucas is awesome."
But when asked if it is easier for people with more money to care about the environment, Lily said: "You don't know how much money I have.
"Nobody knows how much money I have. It's not something that we generally know about each other, so there's always an assumption there."
Lily said she feels a bit of 'guilt' about her success.
"I think it's inevitable; it's a kind of unfortunate symptom," she added. "I've being trying to teach myself to not feel guilty all the time, because I think it's a pretty useless emotion.
"As soon as you start becoming aware of the negative consequences of choices you're making, you feel guilty – 'Oh, I wish I'd done that' or 'I made the wrong choice there'."
Get the latest updates, reviews and unmissable series to watch and more!
Thank you for signing up to Whattowatch. You will receive a verification email shortly.
There was a problem. Please refresh the page and try again.