Linda Gray reveals her big Dallas secrets!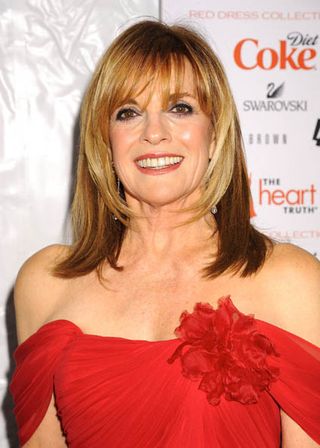 (Image credit: ABACA USA/Empics Entertainment)
British fans of Dallas are in for a treat when the original series is shown in full on CBS Drama from 30 September. What's On TV spoke exclusively to Linda Gray, who played Sue Ellen Ewing, from the very first episode in 1978, and she talks about her memories of the Dallas heyday and the new show which has filmed a pilot episode and will be screened next year... Have you heard that every episode of Dallas is going to be screening in the UK this autumn? "I'm so excited for fans, and those who've never seen all the episodes, or were too young for Dallas. I've never watched all the episodes back again, but I've decided that before our new version of Dallas is shown next year, I'll work my way through them if I can. Those amazing cliffhangers, it had made our show so addictive. And of course watching myself as a young Sue Ellen again will be wonderful! I will probably be left gasping at my outfits, and my hair back then, which just got bigger and bigger, along with the shoulder pads!" Do you still have any of those amazing costumes from back then? "No I don't. They weren't my style and I'm not a hoarder - that's not my lifestyle! Yes they were amazing and I was blessed to wear them, but they're probably best left in the 1980s where they belong!" So what was your first day on set like in 1978? "Oh boy. It was freezing cold and they'd just had an ice storm there in Texas. There was one scene where the entire Ewing family was gathered around the living room and they went around taking close-ups of every single person, and as they did mine I looked at Larry Hagman and remember thinking his character JR is just despicable and conniving, and who in the hell would marry him? And then I thought: 'It's me!!!' There must have been something wrong with Sue Ellen to marry a rotten man like that." What was Sue Ellen like at first? "She wasn't actually very visible in that first episode. If you watch it, Sue Ellen never even had a name! Nobody called her Sue Ellen. We didn't know she was JR's wife, we didn't know who she was. It said 'Sue Ellen' on the script, but never in the dialogue. I just had to say things like: 'More coffee JR darling?' stuff like that. It was very boring, and the other cast started laughing and calling me 'the brunette on the couch!' It gave me the chance, however to find the character of Sue Ellen because I had so much time off, and I would go to beauty salons around Dallas – before that I'd never been to Texas in my life and I was supposed to be a native Texan and one-time Miss Texas! So I went shopping and to get my nails and hair done in those salons and I made it my business to observe Texan women in their environment, and that's how I absorbed and created the character of Sue Ellen." Did you know what was to come for Sue Ellen, like the drink problems and the furious feuds with JR? "After the first few episodes apparently the top people at CBS called down to the set and said they saw something in Sue Ellen's eyes, and they wanted to develop it. I remember staring at Larry and thinking JR's such a naughty boy, it's going to provide plenty of great drama for Sue Ellen, too. You gradually find out more about her and later it turns out that her mother raised her to marry the richest man in Texas, and JR only wanted someone pretty. JR and Sue Ellen then got some of this crazy bantering, arguing and upsets, and that's how it all took off." Of course fans were always waiting for a huge JR and Sue Ellen blowout, especially with Sue Ellen in a drunken rage... "They were the best weren't they? The Ewing barbecues, rodeos and the Oil Barons Ball always had loads of drama, and they were hysterical and so much fun to film." What was it like working with Larry Hagman? "Larry and I absolutely love, love, love working together, and I see him all the time. We giggle and laugh from the minute we see each other. And we're almost like a bickering couple in real life, but with good humour. He'll always say when I walk in to meet him, something like: 'Why did you wear those shoes?' and I'll come back at him with some quip or other: 'Well, what the hell do you call that outfit?' People who see us think oh my God they really are JR and Sue Ellen!" It must have been great to be back with Larry and Patrick Duffy to film the pilot of the new, updated Dallas? "Oh, it was fabulous. Now Larry, Patrick and I are all grandparents, so we share that. To be that close, and friends, for 33 years and it's a long solid friendship which brings love and respect. We know each other's family and kids so well, it's quite a special thing. We filmed at Southfork which was just so surreal. Driving back into the ranch was so different because it's changed so much, it's now a big tourist attraction. It never was before." Will Sue Ellen still have problems, and maybe some drunk scenes? "Well, I don't know where they're taking her, but I feel that her problems will be different this time around and have a different focus." What are the stand-out moments you remember for Sue Ellen? What were your favourite scenes to film? "My hammer and tong argument scenes with Larry were always my favourites, and when I did the drunkard episodes. I really felt, and I know because I hear it from people, that it made a big impact on a lot of people who had an alcohol or drugs problem. They saw my scenes and were jolted into action. This was back in the 1980s when if you had a problem you kind of kept it quiet and swept it under the rug! No one would talk much about problems like Sue Ellen's. If you went into therapy, people assumed you were crazy back then. Sue Ellen's antics made some people face their demons." Dallas always pushed the boundaries with stories, thinking back there was Miss Ellie's mastectomy, Lucy going to marry a gay man, Donna and Ray adopting a Down's syndrome child... "It certainly did! It had so many firsts and that's why it grabbed a lot of people. The show was a forerunner on those issues and it challenged people and got them thinking. Again these were things not spoken about a lot back in the 1980s. I met a lady recently who was a friend of a friend and she told me she confronted her drunken husband who beat her and asked for a divorce. She said she would not have had the courage to do it if she hadn't watched Sue Ellen do the same on Dallas and she thanked me for that. That brought tears to my eyes!" *The full and original series of Dallas premieres on CBS Drama (SKY Channel 149, FREESAT 134), exclusively from 30 September at 11pm. Log on to www.cbsdrama.co.uk SUBSCRIBE to TV Times magazine NOW and you could save up to 29%
Get the What to Watch Newsletter
The latest updates, reviews and unmissable series to watch and more!
The What's on TV team brings you everything you need to know about the world of TV. We have all the information on what is happening in the soaps, what you can't afford to miss on television and which new shows and series are launching. Our handy guides, to all the latest TV shows, bring you everything you need to know about new launches, returning series and must-see events so that you don't miss a thing..