Line of Duty's Adrian Dunbar: 'Viewers wouldn't mind knowing Hastings is flawed, but not that he was a baddie!'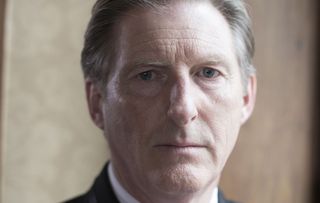 (Image credit: World Productions/ BBC / Des Wil)
Line of Duty's Adrian Dunbar gives hints about the shocks in store in the epic climax to the nail-biting BBC1 crime thriller
As Line of Duty draws to a dramatic close, stalwart Superintendent Ted Hastings, played by Adrian Dunbar, is under intense pressure as he fights for the survival of his team and faces allegations of corruption himself from slimy ACC Hilton (Paul Higgins, below). But will Roz (Thandie Newton) get her comeuppance?
TV Times asked Adrian to give us the low-down…
Things are not in a good place for Hastings and AC-12, what can you tell us about the finale? "We are really up against it and the whole thing could come crashing down around us and it gets very tense towards the end. It gets quite interesting how everything is resolved… Hastings being accused of corruption was a shock for me! You don't know with Line of Duty where anything is going, but I didn't think it would take that turn, so that was scary. Certain matters have been hanging over Hastings, though, and he is not pleased that Hilton is trying to turn the focus on him."
How would audiences react if Hastings really was corrupt? "In Line of Duty, nobody is whiter than white, there are grey areas for everybody. He is not PC and up to speed with present day norms, but we like to think there is somebody who is on the right side and I don't think anybody would like us to betray that idea with Hastings. Audiences wouldn't mind knowing that he is flawed, but not that he was a baddie."
Could Line of Duty and AC-12 survive without him? "There would be have to be someone else to fill that role if Hastings goes. Steve or Kate could be promoted, but it suits the show that he is there as an old school figure. I certainly don't want to see him killed off, that is for sure. We're all happy to keep going with this for as long as we can, but you do still open the scripts and think 'Are we going to get the axe?!'"
Is he going all out to bring Roz to justice now? "His relationship with Roz is strained, she has led everybody a merry dance and he wants rid of her. But Hastings always likes to get the big fish. Sometimes we catch people further down the food chain and that doesn't feel like a victory, because we know there are darker more significant figures manipulating things…
"Thandie has been great though, she is a fabulous actress and as Roz she is extremely still and concentrated. Hastings' interrogation scene with her in episode four was tense because she suddenly turned the tables on him personally and that was uncomfortable to play, I can tell you!"
Series five has already been commissioned; are there things that remain unresolved this series that could be revisited? "Yes, if you've watched the series from day one, there are still things that haven't been resolved. You never know what will come back to bite you in the face! What Hilton is a part of hasn't been entirely resolved and we aren't sure if Hastings knows more about that than we know by the end of this series. But those things may all be red herrings, that is the problem…"
How good are you at working out what will happen? "Not very good at all! I'm in the same boat as the rest of you. This time Thandie knew more about what was happening then we did. When I read that Steve got thrown over the stairwell and ended up in a wheelchair I was slack-jawed, so sometimes we're just as gobsmacked as audiences."
Has the feedback from audiences intensified this series? "It has. Usually people say, 'Oh, it's you! Don't say anything!' The police are fans and people at customs often give me a wink as I am going through. People really like it because it pushes them to understand things and concentrate; it is not chewing gum for the eyes. They get really involved because it's authentic as a police drama, but it has these incredible twists and turns. The show really has become one of the best ones out there and we are all very proud of it."
The finale of Line of Duty screens on Sunday on BBC1 at 9pm
Get the What to Watch Newsletter
The latest updates, reviews and unmissable series to watch and more!
Caren has been a journalist specializing in TV for almost two decades and is a Senior Features Writer for TV Times, TV & Satellite Week and What's On TV magazines and she also writes for What to Watch.
Over the years, she has spent many a day in a muddy field or an on-set catering bus chatting to numerous stars on location including the likes of Olivia Colman, David Tennant, Suranne Jones, Jamie Dornan, Dame Judi Dench and Sir Derek Jacobi as well as Hollywood actors such as Glenn Close and Kiefer Sutherland.
Caren will happily sit down and watch any kind of telly (well, maybe not sci-fi!), but she particularly loves period dramas like Call the Midwife, Downton Abbey and The Crown and she's also a big fan of juicy crime thrillers from Line of Duty to Poirot.
In her spare time, Caren enjoys going to the cinema and theatre or curling up with a good book.