Who Do You Think You Are? star Liz Carr on uncovering an attempted murder in her family tree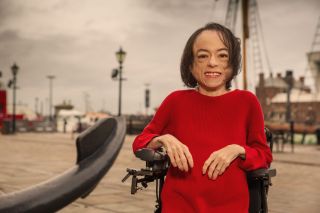 (Image credit: BBC/Wall to Wall Media Ltd/Stephen Perry)
Ex Silent Witness actor Liz Carr on what she found in BBC1's Who Do You Think You Are?
Former Silent Witness star Liz Carr is using her own real-life detective skills to learn more about an attempted murder in her family in BBC1's Who Do You Think You Are?
The episode sees the actor and disabled rights campaigner, who played forensic examiner Clarissa Mullery in the crime drama, delve into the life of her paternal great-great-great-grandfather Bernard Ryan. Known as Barney, Bernard was involved in a failed assassination in 19th century Northern Ireland.
Here, Liz Carr tells us more about the family secrets she discovered in Who Do You Think You Are?...
Was it exciting finding a crime in your family?
Liz Carr: "I love crime dramas and true crime shows – my wife Jo's concerned that I'm planning something! And the investigative Clarissa side in me needed answers because I'm inquisitive. So I was very excited. Clarissa would've been as well!"
Barney was suspected of being embroiled in the shooting and injuring of his landlord Meredith Chambre, who was deemed 'tyrannical'. Were you aware of Barney before?
LC: "Well, my cousin in Canada said that one of my relatives was involved in an assault or an altercation. So I went to Northern Ireland and it was like a treasure trail. I was blindsided by a history I could never have imagined. Barney was from a working class background so it's rare that there's a lot of documentation. But I was able to touch something with his writing on."
It emerged that Barney probably organised the shooting. How did you feel?
LC: "I don't approve of how far it went but I don't feel ashamed of Barney. The reason the men involved were fighting for change and justice, I understood. It's about vengeance against a greedy, malicious landowner. That radicalism sits comfortably with me."
You also learnt about your mum Patricia's father John Hughes, who died when she was a child. He served in the Royal Navy in World War One and travelled the world in the Merchant Navy. Do you feel closer to him now?
LC: "Yes, the most I knew was that he died, which is horrible. But travel's a major thing for me and that wanderlust I shared with my granddad and I was given a list of the places he went to. I didn't think I'd feel that connection and that traits from my ancestors are so strong in me. And my mum's so excited!"
MORE: Ghosts Christmas special on BBC1 - release date, cast, plot and everything you need to know (opens in new tab)
This is the 150th episode of Who Do You Think You Are? Are you proud to be the person to hit that milestone for the show?
LC: "It's the one show where I'd say to my agent, 'Could you tell them I'd really like to do it?!' It's astonishing that I get the honour of being the 150th person. I'm very lucky!"
Who Do You Think You Are? airs on Monday 2nd November on BBC1 at 9pm
Caren has been a journalist specializing in TV for almost two decades and is a Senior Features Writer for TV Times, TV & Satellite Week and What's On TV magazines and she also writes for What to Watch.
Over the years, she has spent many a day in a muddy field or an on-set catering bus chatting to numerous stars on location including the likes of Olivia Colman, David Tennant, Suranne Jones, Jamie Dornan, Dame Judi Dench and Sir Derek Jacobi as well as Hollywood actors such as Glenn Close and Kiefer Sutherland.
Caren will happily sit down and watch any kind of telly (well, maybe not sci-fi!), but she particularly loves period dramas like Call the Midwife, Downton Abbey and The Crown and she's also a big fan of juicy crime thrillers from Line of Duty to Poirot.
In her spare time, Caren enjoys going to the cinema and theatre or curling up with a good book.
Get the latest updates, reviews and unmissable series to watch and more!
Thank you for signing up to Whattowatch. You will receive a verification email shortly.
There was a problem. Please refresh the page and try again.