Louis Theroux investigates euthanasia, polyamory and adoption in new BBC Two doco series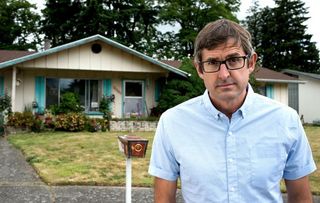 Twenty years after his award-winning Weird Weekends series was shown, Louis Theroux returns to America to investigate issues around birth, love and death.
Louis Theroux is heading back to America for his new BBC Two documentary series, Louis Theroux's Altered States.
In the three-part series, which will be shown later this year, Louis investigates the unusual ways modern America deals with birth, love and death.
During the series run, the TV presenter will be in California to investigate private adoptions where some couples are prepared to pay up to $50,000 to adopt a child.
In Portland, Oregon, he'll look into open relationships and polyamory where people choose to have more than one partner.
In California, Louis will also investigate issues around euthanasia and discovers how six States now offer the terminally ill the option to end their own lives with a prescribed cocktail of drugs.
"I have always been interested in how people conduct the most intimate aspects of their lives," says Louis. "For this series we looked at the new ways Americans are approaching some of humanity's oldest dilemmas. I have been given extraordinary levels of access to courageous people and families across the United States, many of them enduring unbelievable levels of stress and anguish, and it was a privilege to be allowed into their lives in this most personal way."
Patrick Holland, Channel Controller, BBC Two, says: "Louis is a unique talent on BBC Two and it is always a very special moment when a new series lands. Altered States is a hugely challenging, disturbing and illuminating trilogy, taking us into some extremes of experience, all guided by Louis' exceptional empathy and humanity."
Clare Sillery, Head of Commissioning, Documentaries, says: "Louis' documentaries are some of the most fascinating, contemplative and honest on television. It is always a pleasure to have him on our screens tackling the subjects that many documentary makers would shy away from."
https://youtu.be/tpUtUQ5YC-Q
Louis Theroux's Altered States begins on BBC Two later this year
Get the latest updates, reviews and unmissable series to watch and more!
Thank you for signing up to Whattowatch. You will receive a verification email shortly.
There was a problem. Please refresh the page and try again.