Louisa Johnson and Ché Chesterman: 'Our dream duets in The X Factor final are Beyoncé and Stevie Wonder!'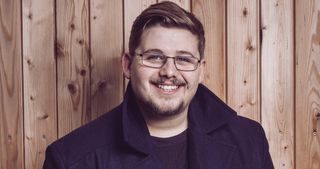 (Image credit: Syco/Thames/Corbis/Dymond)
This weekend's X Factor final (opens in new tab) has come around quicker than you can say 'Cheryl Fernandez-Versini'! With fewer live shows and double eliminations, it's been impossible to predict which final three contestants would make it to the ultimate sing-off, which takes place on Saturday and Sunday at Wembley Arena.
At the time of writing, Louisa Johnson, 17, from Thurrock and Ché Chesterman, 19, from Basildon are firm favourites in the competition.
"A star is born!" Simon has said of vocal powerhouse Louisa, while Cheryl 'can't get enough' of former supermarket worker Ché's smooth, soulful voice. But despite non-stop praise, the talented Essex teens tell TV Times why they're still pinching themselves over their new-found fame…
The judges love you both, have you been surprised by their comments?
Ché: "Simon, Cheryl, Rita and Nick really know their stuff and they're complimenting me on the way I sing! I've been through every single emotion so far and the only way I can describe this experience is weird, but a great weird."
Louisa: "It's all been a bit overwhelming and there was one point, during Movie Week, when I just need a good cry on stage. I don't know why!"
But your performances have been flawless! Where did you learn to sing like that?
Louisa: "I started singing properly when I was about seven, so I don't think I learnt to sing as such, I've sort of always had it. I've had some vocal coaching, but even at seven, I took singing very seriously."
Ché: "My dad taught me to sing when I was about eight or nine and loved having him in the audience for Movie Week. I spend my life trying to impress him because of everything he's done for me with regards to music. He actually auditioned for X Factor in 2006 and got through to Boot Camp, but it just wasn't shown on TV, so this is all he's ever wanted for me."
Why did you decide to audition this year?
Ché: "Even though Dad and I talked about it before, it wasn't the right time. But this year I thought, 'I feel good. And I could win!'"
Louisa: "I love X Factor and always imagined myself on it. I wanted to go for it last year, but there was something holding me back. I feel more confident and happier now and I think you need that as well as a voice."
Were you worried about dealing with TV's 'Mr Nasty' beforehand?
Louisa: "I don't think of him as nasty, he's just trying to get the best out of us. He wants us to do well just as much as we do."
Ché: "I've seen Simon be brutal over the years, and on this series too, but he's always given me good feedback."
And Rita said she secretly fancies you, Ché …
Ché: "Well, can you blame her? Haha! Erm, I don't know what to say about that… it's very flattering."
What's life like in The X Factor house?
Ché: "I feel like I'm in Big Brother! Yes, it's a competition, but it doesn't have to be like that off stage so we're like a big group of mates in there. I went back to Essex the other week and said to my girlfriend, 'Right, I'm going home now'. I've settled in so well that I'm calling it 'home'! Hopefully I'll have my own mansion one day, that would be nice, wouldn't it?"
Louisa: "I love the house, and I'll definitely stay friends with everyone. We might fight for our lives on stage, but we don't need to be horrible to each other. I do miss home, though, and sometimes it's been a bit hard, but Mum is always there for me. Aww, I love my mum!"
Are you celebrities back home in Essex now?
Louisa: "I do get a few stares and people asking, 'Are you that girl…?' and I've signed a few autographs. The support has been incredible, especially at my performing arts college."
Ché: "There are posters up of me at places I've gigged at before. Essex has done me proud!"
How have you found your mentors Rita and Nick?
Louisa: "Rita is the best! I couldn't wish for anything more. She talks to me everyday, not necessarily about the show, but just to see how I'm doing. It's nice to have someone there who genuinely cares."
Ché: "Nick and I are like best mates; I can talk to him about absolutely anything. He's a radio DJ, so he knows so many songs, and he has a brilliant knack of picking the right one for me. He's come under a lot of criticism, but he's been in the limelight for so long that he knows how to deal with it and just cracks on with the job. I don't think people realise how much he's involved here."
Who would you like to duet with in the final?
Ché: "Stevie Wonder, definitely. But I don't think I'd be able to sing because I'd be crying too much!"
Louisa: "Beyoncé, she's my biggest influence. She works so hard, sings different genres of music and she can dance. She's the kind of performer I'd like to be."
Get the latest updates, reviews and unmissable series to watch and more!
Thank you for signing up to Whattowatch. You will receive a verification email shortly.
There was a problem. Please refresh the page and try again.