Lucy Speed: 'Everything you see in Cradle to Grave REALLY happened!'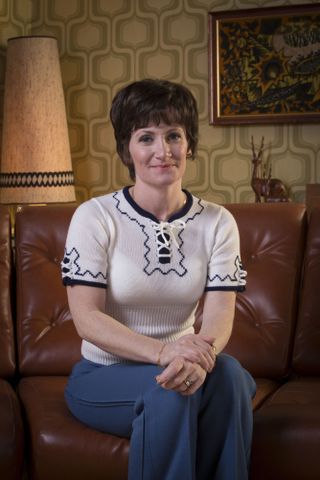 (Image credit: BBC/ ITV Cradle Ltd/Matt Squire)
The childhood of motormouth TV and radio broadcaster Danny Baker is explored in new comedy Cradle to Grave, which starts on BBC2 next Thursday (September 3).
Ex EastEnders' star Lucy Speed, who plays Danny's mum Bet, tells us about the show, and what made Danny the man he is today….
For those who don't know, what's Cradle to Grave about?
"It's a comedy based on Danny Baker's book, Going to Sea in a Sieve. It follows Danny's entire family living in Bermondsey, south London, rather than just Danny's experiences and the story is told from the point of view of young Danny, played by Laurie Kynaston, who narrates it. So, in a nutshell, it's that but with all of these amazing, creative characters that came into their lives, having their story told as well."
Had you read Danny's book before taking on the role as his mum, Bet?
"I had read it, but it was quite a while ago, so I'm sort of re-reading it now after the event because obviously it resonates differently now. I've always been a big fan of Danny – I'd listen to his radio show on the way to work and he'd always really make me laugh, so I was really excited about the whole project."
Did you talk to Danny about what his family life was like to help you prepare for the role?
"Danny was on set every day, so he would give me pointers, but he was also very gracious to allow some things that perhaps wouldn't have been his mum's turn of phrase or what she would have done. My own Nan was from Bermondsey and was the daughter of a docker, so Bet very much reminded me of my Nan."
So, what are the Bakers like as a family?
"The Bakers are a normal family in the most abnormal way. They've got this optimism and they're just getting on with life; they're not asking for too much, they're just asking for enough."
Danny's dad Spud, played by Peter Kay, is a bit of a wheeler-dealer isn't he?
"He is. While Bet wants to strive for better things, Spud's ducking and diving. Danny said that when Only Fools and Horses and Del Boy first came on TV, everyone he knew thought it was a documentary about his life!"
What was it like working with Peter?
"Pete was lovely. He's everything we all hoped and imagined he would be, really, and just very normal, he doesn't disappoint. He's such a perfectionist; he worked really hard on his London accent and really pulled it off. And there are those genius moments; all the little things that Pete adds in. Pete entertained all the cast and crew in between takes and made everyone on set feel really comfortable. That's real star quality."
What do we find out about what Danny was like as a young boy?
"Danny wasn't a bombastic teenager, he had all the usual fears. He wasn't born this super-confident guy – he was moulded by his family and the people around him to become the Danny we know."
What did you think of Laurie - who plays Danny - as a young actor?
"Oh, I love Laurie. He's so subtle and so brilliant; he's like a young Eddie Redmayne. He's such a beautiful, beguiling actor to watch and what he does with the whole series from beginning to end is just genius. I think he's done a fantastic job – and he's also the nicest young man you could ever meet!"
The show's set in the late 1970s. Did you enjoy wearing all of the Seventies' costumes – and that very impressive wig?
"I know - the wig's amazing isn't it!? If you see the real Bet, her hair really was quite splendid. That wig was literally like putting on the Seventies - when I had it on people would say to me: 'You really look like my mum or aunty in 1974', so it was just perfect. Clothes-wise, we always remember the Seventies as being really unglamorous and, while the clothes aren't that great, I actually loved wearing them. I was really seduced by the whole period."
http://www.youtube.com/watch?v=J7SBOkOdHnk
Cradle to Grave features many funny stories from Danny Baker's childhood, some that people might not believe. Does this go some to explaining why Danny became one of the media's 'liveliest' personalities?
"Everything you see in Cradle to Grave REALLY happened! This show explains a lot about why Danny Baker is such an exuberant and interesting character – it's because he's from that time, that era, that place and definitely that family!"
Cradle to Grave starts on Thursday September 3 at 9pm on BBC2.
Get the latest updates, reviews and unmissable series to watch and more!
Thank you for signing up to Whattowatch. You will receive a verification email shortly.
There was a problem. Please refresh the page and try again.