Magic in the Moonlight | On TV today – Woody Allen conjures up a slight but charming Riviera frolic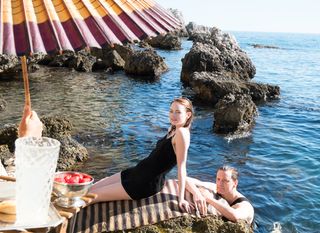 (Image credit: Jack English)
Woody Allen has come up with a slight but charming comedy in which Colin Firth's arrogant English magician Stanley Crawford travels to the 1920s French Riviera intending to expose EmmaStone's pretty young clairvoyant, Sophie Baker, as a fraud.
She is currently bewitching a wealthy American family with her reports from the afterlife, but arch rationalist Stanley will surely see through her tricks in a trice. Or so he smugly reckons.
Yet when he encounters her in the flesh, he is rattled by her spooky perspicacity. Might he be wrong about all mediums being fakes? Might the universe not be the bleak, meaningless, godless place he has always maintained? Might he even be falling in love?
For Allen fans, watching the ageing maestro attempting to pull off his old tricks is a nerve-wracking business these days. Sometimes he can dazzle with his sleight of hand; sometimes he can't find a rabbit to pull out of the hat.
With Magic in the Moonlight he proves he still has something up his sleeve. The script creaks, Firth's cranky sceptic needs a lighter touch and he has next to no chemistry with his co-star, and yet...
There is magic here for those suitably disposed. Sonia Grande's costumes are entrancing and so is Darius Khondji's cinematography, while the sight of a rich young nitwit (Hamish Linklater) serenading his beloved on the ukulele conjures up the sun-dappled silliness of PG Wodehouse, as does the presence of Eileen Atkins' imperious aunt.
For many, this won't be enough, but if you are willing to succumb to the illusion then Allen still casts an alluring spell.
Certificate 12A. Runtime 98 mins. Director Woody Allen.
Magic in the Moonlight is showing on Sky Movies Premiere tonight at 10pm. http://youtube.com/v/LAwbwKURvm0
Get the latest updates, reviews and unmissable series to watch and more!
Thank you for signing up to Whattowatch. You will receive a verification email shortly.
There was a problem. Please refresh the page and try again.