Mary Berry on her new BBC1 show: 'These really are my favourites that I cook and come back to all the time'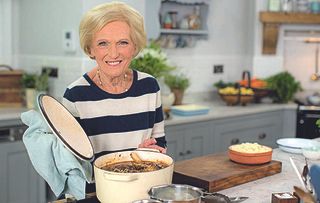 (Image credit: BBC/Sidney Street Productions/En)
Mary Berry reveals all about her new show, Classic Mary Berry, which starts tonight
There's so much more to Mary Berry than her stint judging The Great British Bake Off.
The iconic show and soggy bottoms may have placed Mary permanently in our affections (and quite rightly so!), but away from the limelight, chef, journalist and author Mary loves nothing more than cooking for kindred spirits, trying new dishes and perfecting her culinary works of art.
Tonight the queen of cakes is embarking on a food-fuelled odyssey, refining her legendary classic recipes and making fresh versions of favourites. Along the way, Mary will also share her tips for fuss-free food and widen her culinary horizons with a touch of time travelling!
Here Mary Berry tells us all about her new six-part BBC1 series, Classic Mary Berry, which starts tonight at 8.30pm...
What's your new series about?
"It's a trip down memory lane with my classic recipes, but I've updated some of them. I've added new ingredients, using food in season, and made them easier to make. I think all the recipes are achievable. Viewers will be reminded of things that maybe they used to make and would love to have again. What I love about this series is that I get to cook, but also visit other places to get new ideas and learn further skills."
In this tonight's episode you embark on "caveman cooking"…
"I met chef Niklas Ekstedt (below with Mary), who has perfected 'caveman cooking', and we make delicious venison meatballs. In his restaurant in Sweden he cooks everything on open fires – they don't use gas, electricity or even a barbecue! He drops food into an open-bowl fire. I don't know if I'll take it up but it was different!"
What's on the menu throughout the series?
"These really are my favourites that I cook and come back to all the time. You'll see everything from kedgeree and the ultimate beef burger to drop scones, banoffee pie – don't we just love banoffee pie?! – and the best tarte tatin that works every time. There's even old-fashioned food like prawn cocktail. I remember prawn cocktail being the first course if you went out."
What do you think keeps your passion for cooking alive?
"I love food, I love cooking and I love having people around. I'm so lucky to have a family that really enjoys food. I prefer to cook than to do anything else. There's always something new to learn."
Any other personal highlights?
"Visiting a London primary school for the second episode was an absolute eye-opener. It's in quite a deprived area and it is so special. They have a secret garden, and use all the vegetables for their school dinners. They grow their own herbs, fruit and have chickens, too. I met the children, who have their lessons out of doors a lot, and they were delightful. They name all their chickens and talk to them and collect the eggs. I cooked a stir-fry with some of the children, and we had all clean plates! One great thing I noted was a huge notice on the school gates to parents saying, 'Greet your child with a smile, not a mobile'."
Did you find yourself outside a lot during this series?
"Yes, one of my favourite episodes is in Cornwall. I went to see award-winning chef Nathan Outlaw in Port Isaac and we cooked outdoors in the rain! We dressed for the weather and then cooked mackerel and a delicious salad of beetroot, apple and walnut. He's very knowledgeable on fish and even though it rained it was great!"
Classic Mary Berry starts on BBC1 tonight at 8.30pm.
Get the latest updates, reviews and unmissable series to watch and more!
Thank you for signing up to Whattowatch. You will receive a verification email shortly.
There was a problem. Please refresh the page and try again.