The Halcyon's Matt Ryan: 'I've driven my friends crazy speaking American!' (VIDEO)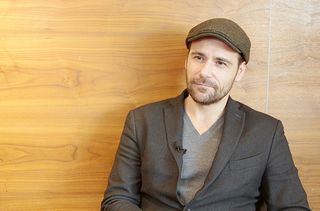 The Halcyon's Matt Ryan has swapped his Welsh accent for an American twang to play reporter Joe O'Hara in the period hotel drama
Welsh actor Matt Ryan went all out to perfect his American accent as he prepared for his role as US reporter Joe O'Hara in ITV's wartime drama The Halcyon.
"I was calling all my friends in America to speak to them and driving them crazy. I was also driving all of my other friends here crazy by speaking in an American accent to them. They just said, 'Give it up, you are Welsh!'" the Swansea-born actor told What's On TV.
"But it's something I wanted to get right and I worked really hard with a dialect coach."
The series, which is set in a luxury London hotel, saw Joe have a rocky start at The Halcyon when he broadcast a potentially damaging story. However, he has quickly been accepted into the fold, particularly by assistant manager Emma Garland (Hermione Corfield).
Can he win her away from aristocratic Freddie Hamilton (Jamie Blackley)?
"There's a love triangle there and some interesting relationships that he has that play out," teased Matt. "He started off as an observer and he got the back up of all the staff. But as time has gone on he has become embedded in their world and enamoured of the British people for their courage and solidarity and their ability to keep calm and carry on."
The actor, whose previous credits include Criminal Minds: Suspect Behaviour and US fantasy drama Constantine, loved smartening up to play the period role.
"What is funny that I hadn't clean-shaved for six years before I did this so I got to see what my face looked like underneath my stubble," he laughed. "They have got all these great trilbys and these big wide-shouldered double-breasted suits too, which are fun to dress up in. You feel a little bit gangster!'"
The Halcyon continues on Mondays on ITV at 9pm
Get the latest updates, reviews and unmissable series to watch and more!
Thank you for signing up to Whattowatch. You will receive a verification email shortly.
There was a problem. Please refresh the page and try again.