Olivia Williams: 'The Halcyon is VERY different from Downton Abbey' (VIDEO)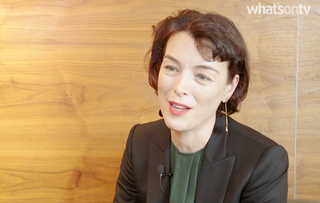 Olivia Williams reveals how The Halcyon compares to Downton Abbey as the new ITV period drama continues
They both deal with life above and below stairs, but Olivia Williams thinks that her new wartime drama The Halcyon, set in a London hotel, is a very different kettle of fish from Downton Abbey.
"Obviously there are parallels but we are dealing with sections of society that never made it down to Downton," Olivia told What's On TV. "And being in central London, this is an urban tale with a much greater turnover of people. It's also a very physical show full of movement and people dancing."
The actress, who plays the hotel's owner Lady Hamilton in The Halcyon, gained an insight into how London partied during the Blitz from the step-grandmother of her husband, actor Rashan Stone.
"She used to come to London and dance during the war with the black Canadian soldiers and she said that the bomb raids would go off but they would keep dancing and that is the spirit that other shows haven't caught. It wasn't all about standing up and defending our country, it was 'Let's party like it's 1999 - or 1943'."
Olivia told us that she loves her rather formidable character, especially now that Lady Hamilton has taken over the running of the hotel following her cheating husband's death in the opening episode.
"I am trying to get sympathy for her because she is a complicated character and that is why I enjoy playing her," she smiled. "She is extremely tough but also very vulnerable. She begins the series finding out the worst news a woman can find out, that her husband has been unfaithful for years. Then he promptly drops dead, so she can't be angry with him. Her world has changed irrevocably and also war has just broken out so she quite a lot on her plate. She is not a very nice person but she is vulnerable and capable of having her heart broken."
The Halcyon screens on Mondays on ITV at 9pm.
Get the latest updates, reviews and unmissable series to watch and more!
Thank you for signing up to Whattowatch. You will receive a verification email shortly.
There was a problem. Please refresh the page and try again.