Michelle Keegan: 'I'm from a long line of strong women!'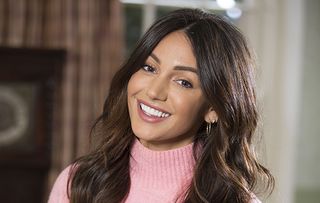 (Image credit: BBC)
Michelle Keegan reveals how Who Do You Think You Are? has unearthed a suffragette and a brave evacuee in her family tree
She plays a tough cookie in Our Girl but Michelle Keegan comes from a long line of courageous women herself. In a special Who Do You Think You Are?, celebrating the 100th anniversary of British women getting the vote, the actress learns that her great-great-grandmother Elizabeth Kirwan was a suffragette.
Here, Michelle Keegan tells TV Times more in an exclusive chat about what she discovered on Who Do You Think You Are?…
TV Times: How did you find the Who Do You Think You Are? experience?
Michelle Keegan: "Fascinating! I am a real history buff. Whenever I visit old buildings I wonder, 'Who has touched those walls?' To have this opportunity was unbelievable."
TVT: What was it like discovering that Elizabeth was a suffragette?
MK: "I couldn't believe it. I was proud. On the 1911 census, it had 'suffragist' as her occupation and her husband John would have written that down. The fact that he supported her was huge. Then seeing her name on the voting list was brilliant. I also learned that everyone in Elizabeth's community in Manchester would go to her for help. I knew I was from a line of very strong women!"
TVT: You also discovered that suffragette leader Emmeline Pankhurst was the registrar for the birth of Elizabeth's daughter Norah, your great-grandmother. How did you feel?
MK: "I visited her home and standing where she had signed the birth certificate was overwhelming. They're putting a statue of Emmeline in Manchester and when I walk past it, I'll know that it was also people around her like Elizabeth who made a difference to women everywhere."
TVT: In Gibraltar, you learn more about your maternal grandmother, Mary Wiltshire, who was born there. What did you discover?
MK: "I'd been to Gibraltar before with her but I didn't know that, as a child, she, her siblings and my great-grandmother Leonor (pictured above) were evacuated to London from there during World War Two. I had massive admiration for Leonor. She must have been very independent to be on her own in the UK with three kids in the middle of the Blitz."
TVT: Your seven-times great-grandfather, Giacomo Parodi, came to Gibraltar from Genoa in the 18th century. Were you surprised to discover Italian roots?
MK: "Yes, I presumed we had come from Spain to Gibraltar so to find out we were from Italy was a shock – but a nice one! I visited the church in Genoa where he had been baptised and it was breath-taking and emotional. He'd never have thought that his seven-times great-grandchild would be there."
TVT: Do you understand your roots more now?
MK: "Definitely. When I was younger, because of my olive skin, people said, 'Where are you from?' and now I know I've got Italian heritage. I'm also strong-minded and independent like Leonor and Elizabeth."
TVT: Are you looking forward to sharing your findings with your family?
MK: "I haven't told them anything because we'll watch it together when it goes out. I want to take them to Gibraltar and to Italy now that I know more. I can't wait!"
Who Do You Think You Are? airs on Wednesday 6 June at 9pm on BBC1
Get the What to Watch Newsletter
The latest updates, reviews and unmissable series to watch and more!
Caren has been a journalist specializing in TV for almost two decades and is a Senior Features Writer for TV Times, TV & Satellite Week and What's On TV magazines and she also writes for What to Watch.
Over the years, she has spent many a day in a muddy field or an on-set catering bus chatting to numerous stars on location including the likes of Olivia Colman, David Tennant, Suranne Jones, Jamie Dornan, Dame Judi Dench and Sir Derek Jacobi as well as Hollywood actors such as Glenn Close and Kiefer Sutherland.
Caren will happily sit down and watch any kind of telly (well, maybe not sci-fi!), but she particularly loves period dramas like Call the Midwife, Downton Abbey and The Crown and she's also a big fan of juicy crime thrillers from Line of Duty to Poirot.
In her spare time, Caren enjoys going to the cinema and theatre or curling up with a good book.