Monster on the Campus (1958) | Hairy Jekyll & Hyde chills with an evolutionary twist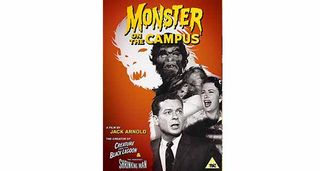 From the master of 1950s American sci-fi, Jack Arnold, comes the black and white horror chiller, Monster on the Campus, in which evolution goes in reverse before your very eyes.
In the Californian university town of Dunsfield, Professor Donald Blake (Arthur Franz) acquires prehistoric fish fossil whose irradiated blood causes a dog to sprout large canines, a dragonfly to grow two-foot long, and the inquisitive scientist to revert into a prehistoric caveman creature. But when it goes on a killing spree, how long will it take for Blake to work out that it's the beast within him that's causing all the mayhem on his doorstep?
1950s teen idol Troy Donahue plays the handsome jock who, along with Nancy Walters (who starred with Elvis in Blue Hawaii), witnesses the fossil's transformation abilities (in the film's best scene in which the dragonfly mutates), while legendary stuntman Eddie Parker is the face behind the joke shop mask that's used for the Beast of Dunfield creature.
This evolutionary variant on the Jekyll & Hyde story isn't the greatest sci-fi for director Jack Arnold to go out on (he went into television after this), but it does have its moments, particularly the excellent use of library music and the hilariously corny dialogue.
Monster on the Campus is out on DVD in the UK from Screenbound Pictures from 15 February 2016
http://www.youtube.com/watch?v=0ROVgXDR544
Get the latest updates, reviews and unmissable series to watch and more!
Thank you for signing up to Whattowatch. You will receive a verification email shortly.
There was a problem. Please refresh the page and try again.