Monty Don - 'You cannot visit the Taj Mahal without being moved to tears'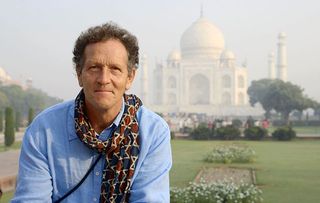 (Image credit: BBC/Blink Films)
Monty Don on his new series Monty Don's Paradise Gardens
It's no secret that Monty Don digs gardening. So he jumped at the chance to embark on a horticultural adventure across the globe to unearth the history and enduring influence of gardens in Islamic culture for a new BBC2 series, Monty Don's Paradise Gardens.
The two-part show sees the Gardeners' World presenter visit Spain, Morocco, Iran, India and Turkey to learn about the four areas of Islamic civilisation (Andalusian, Mogul, Persian and Ottoman) by visiting gardens that symbolise and represent each.
Here, Monty Don, 62, tells us more about Monty Don's Paradise Gardens, which begins on Friday on BBC2 at 9.00pm…
What do these gardens symbolise to Muslims?
Monty Don: "The desert Arabs in the fifth and sixth centuries were living this incredibly harsh life and the only thing that made it possible for nomadic tribes to survive were these oases with water, greenery and fruit. They were not just lovely but also they were the only thing that kept them alive. Water became this magical thing. Then Islam started in the seventh century and in the Koran there are many references to paradise being a garden. So gardens became a reflection of paradise."
Why was it important to you to make this series?
MD: "It was interesting to see these gardens but also to go on this journey of discovery. What I find fascinating is how little influence all these incredible gardens have had on our own gardens. That's one of the things I want to correct."
Monty Don in a Spanish orange grove
Tell us more about the Andalusian gardens…
MD: "The Andalusians had this very sophisticated early culture. There was water to be had and the techniques to move it around, so they introduced things like jasmine, pomegranates and orange trees. "
And the Persian gardens?
MD: "The Persians were making gardens long before Islam. They introduced the idea of gardens divided into four quarters, to represent water, wind, fire and earth. When the Persians became Muslims, the four quadrants came to represent the Koran's four rivers from heaven: water, honey, wine and milk."
What sets the Ottoman gardens apart from the others?
MD: "For all the other cultures the gardens were about hiding from the desert, but the Ottoman tribes were never from the desert. They chose their gardens so they had views over water."
Were the Mughal gardens magical?
MD: "The Mughals built these incredible buildings surrounded by the Persian four-squared gardens, which very often had a tomb in the middle. The most famous of these is the Taj Mahal. It was designed to be the most magnificent tomb garden ever built."
What did you like best?
MD: "You cannot visit the Taj Mahal without being moved to tears. It's just the beauty of it."
What is your own faith?
MD: "I was brought up very strictly and conventionally Church of England, and I think you can never shake off your upbringing. I do believe in God, I do feel religious, but I don't practise any faith."
Did you face any challenges while making the series?
MD: I'm the first person ever to have filmed gardens in Iran. It took six months to get a visa to film there, then I got 48 hours' notice that I was going, so it was a mad scramble! But going to Iran was one of the highlights of my life!
By Natasha Holt
Get the latest updates, reviews and unmissable series to watch and more!
Thank you for signing up to Whattowatch. You will receive a verification email shortly.
There was a problem. Please refresh the page and try again.