Moving On star Sinead Cusack on a story of triumph over prejudice and abuse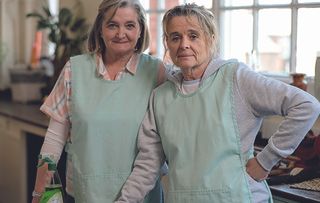 (Image credit: BBC/LA Productions/Tony Blake)
Moving On returns this week on BBC1
Sinéad Cusack is picky about the telly roles she takes on. They have to be real, gritty and emotional. And there's no doubt that her character in the first episode of the new series of Moving On, the acclaimed daytime drama made up of stand-alone stories, ticks all those boxes.
Sinéad plays single mum Pat, whose grown-up daughter Rachel (The Ice Cream Girls star Jodhi May, who also wrote this episode, called Invisible) was abused by her teacher (former The Bill star Simon Rouse) when she was 12.
At the time, Pat didn't go to the police because she dreaded not being believed and feared stigma could blight Rachel's life. When Pat spots Rachel's abuser 30 years later, however, it opens up feelings of guilt and anger.
Here Sinéad Cusack, 69, reveals all to TV Times about her role in Moving On
What can you tell us about Pat?
"Pat knows she did a terrible thing hiding the abuse. She thought it would sully Rachel's potential, but she's had to live with that guilt."
Has it affected the relationship she has with Rachel?
"Yes. Pat's last line is 'I'm sorry'. But there's something redemptive about this drama."
Why does Pat want to go to the police after all this time?
"It's got a lot to do with the climate. Pat's Irish and, back then, the Irish were seen as feckless, rowdy, drunken… Not being believed was the fuel that made her keep quiet. But thank God a lot has changed."
Some scenes are very emotional. How did you find filming those?
"It wasn't difficult – I understood them. I gave up a child for adoption as I believed I wasn't capable, or it was shameful, or my child would be disadvantaged. I empathised with the weight of Pat's guilt."
What are the favourite roles you've played?
"Marcella was great because I was playing Sylvie. It was enjoyable to play a ruthless, ambitious woman. I also loved playing Mrs Thornton in the BBC series North & South."
Your son Max Irons is an actor. Would you like to work with him?
"Yeah, I'd give anything to play Max's mum or relation in some way – he's a fantastic lad and a great actor!"
Moving On is on BBC1, Monday to Friday this week, times vary.
Get the latest updates, reviews and unmissable series to watch and more!
Thank you for signing up to Whattowatch. You will receive a verification email shortly.
There was a problem. Please refresh the page and try again.