Natalie Gumede and Richard E. Grant to star in Jekyll & Hyde!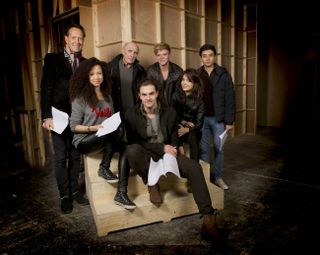 (Image credit: Patrick Redmond +353872600976)
Coronation Street star Natalie Gumede has been cast alongside Downton Abbey cad Richard E. Grant in ITV's Jekyll & Hyde.
The ten-part drama based on Robert Louis Stevenson's 1886 novel will focus on the grandson of the doctor featured in the original tale, Robert Jekyll (Tom Bateman, The Tunnel) and be set in 1930s London.
'Can't wait to start filming,' tweeted Natalie. '(I'll) be looking and sounding very different to what people are used to.'
Creator of The Fast Show, Charlie Higson has penned the new series, which will follow Robert Jekyll's quest to discover his real identity, his true family history and the nature of his 'curse'. Jekyll tranforms into Hyde in moments of extreme anger, stress and when his or the lives of others are threatened.
The cast also includes Stephanie Hyam (Murdered By My Boyfriend), Donald Sumpter (Game of Thrones), Amit Shah (Hustle), Phil McKee (Ripper Street) and Christian McKay (Rush).
Ruby Bentall (The Paradise), Enzo Cilenti (Game of Thrones), Lolita Chakrabarti (The Smoke), Michael Karim (Inspector Lewis) and Ace Bhatti (Silk) will feature in supporting roles.
Get the latest updates, reviews and unmissable series to watch and more!
Thank you for signing up to Whattowatch. You will receive a verification email shortly.
There was a problem. Please refresh the page and try again.