Neil Dudgeon on the secrets of Midsomer Murders' success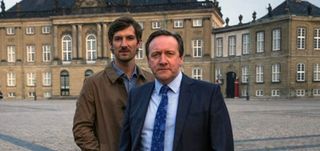 Neil Dudgeon has revealed he feels like an "old hand" on Midsomer Murders after four years with the perennially popular ITV crime drama.
"I'm on to my second sidekick already," said Neil.
He has been playing DCI John Barnaby since 2010 and was recently joined by Gwilym Lee as DS Charlie Nelson.
Neil said: "I've now filmed 20 episodes so I'm starting to feel like an old hand. The arrival of DS Nelson brings a totally new dynamic to the partnership with Barnaby and the viewers seem to enjoy the chemistry.
"Gwilym is a great bonus to the series. We saw lots of marvellous people for his role, but when Gwilym came in, I thought, 'He seems nice, I hope he's as good as he looks' and he was. He's been fantastic in every way. He's great to have on set around the cast and crew and is always enthusiastic."
Midsomer Murders, which first aired in 1997 starring John Nettles as DCI Tom Barnaby (DCI John's cousin), has also been successful abroad, which Neil puts down to the "whodunnit angle".
"It's a big, proper two-hour show that you can get immersed in - you have time to look at all the suspicious characters, red herrings and all," he explained.
"The locations are a vital ingredient, too - the beautiful English countryside, vast stately homes, and sweet little cottages.
"It's not a totally modern police procedural series. Midsomer is not so detailed about the intricacies of real police work and forensic detail, it has an 'other worldly' side to it which I think people find appealing."
The 100th episode of Midsomer Murders, The Killings Of Copenhagen, is available on DVD from April 7 2014.
Get the latest updates, reviews and unmissable series to watch and more!
Thank you for signing up to Whattowatch. You will receive a verification email shortly.
There was a problem. Please refresh the page and try again.