Neil Ruddock on Harry's Heroes: 'I was really struggling'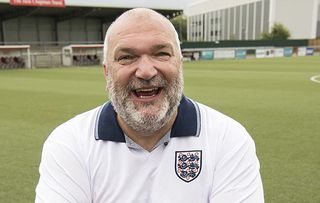 50-year-old Neil Ruddock was in for some nasty surprises in the ITV show, which starts tonight
Football star Neil Ruddock has revealed the torture of trying to get back into shape for ITV's new documentary Harry's Heroes: The Full English.
The 50-year-old former Tottenham and Liverpool player joins the likes of John Barnes, David Seaman, Chris Waddle and Matt Le Tissier as Harry Redknapp attempts to prepare the team of legends for a game against the Germans.
But Neil, aka Razor Ruddock, reveals suddenly training again was a big shock to his system.
"I found out through the process of getting fit again that I've got to have a full knee reconstruction. I was really struggling training like the other lads, we all had our set weekly training we had to do, but I couldn't do it, the only thing I could do was swim."
And Neil says the training methods used today in football are remarkably different to what was going on in his day.
"We used to have a lot of 5- asides, it was just all 5- asides, it was just if you had the ball you would score the goals, score more than they do and you win the game. The diet scheme was the biggest thing to change, I mean we didn't have dietitians and in 1994, we didn't have a physio.
"If you were injured you'd just put a bit of ice on it. If you needed to lose weight you would wear a black sack under your kit, you'd used to sweat 6 pound off, but you'd drink 7 pounds of water back on.
"So learning how to eat well and working out how your body works, you've just got to find out yourself."
But for Neil, who had a great time seeing his footy mates again, all the hard work paid off and he feels in much better shape now.
"I lost a lot of weight, with all the training I probably put 11 pound of muscle on, I think I only lost a couple pound, about 3 pounds I think.
"When I started I couldn't do two lengths of the swimming pool, now I bang out 30 lengths, not a problem. I just didn't realise how badly I was struggling with that."
Harry's Heroes, featuring Neil Ruddock, starts tonight on ITV at 9pm.
Get the latest updates, reviews and unmissable series to watch and more!
Thank you for signing up to Whattowatch. You will receive a verification email shortly.
There was a problem. Please refresh the page and try again.