Netflix cancels Gorillaz movie, and fans aren't happy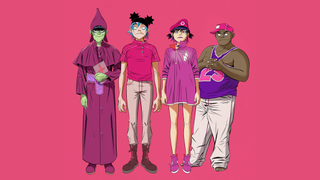 (Image credit: Gorillaz)
While Netflix has a reputation for canceling popular TV shows after just one season, its latest axing hits a project that hasn't even been released yet: the Gorillaz movie.
Gorillaz is a musical project created by ex-Blur frontman Damon Albarn — and for music videos, album artwork and other promotions, he created a cast of colorful fictional characters to act as the band, as well as a long-running story that wraps up all of the characters, events and locations mentioned in the music.
In an interview with HUMO (opens in new tab) (which sits behind a paywall) to promote the upcoming album Cracker Island, Albarn gave fans some bad news about the movie: "The streaming platform for which we were making the film has withdrawn."
That coy reference to a "streaming service" alludes to Netflix, as Albarn discussed in many interviews in the past that the streaming giant was working on an animated movie in the Gorilla-verse. As early as 2021 the writing room for this feature was taking place.
In the interview, Albarn suggests that Netflix's change in strategy pertaining to animation is to blame for the movie being canceled: "They started to panic because they were making too much content and decided to cut back on their movie offerings". Recently, Netflix also canceled the animated shows Inside Job and Dead End: Paranormal Park in January.
Given the long-running story in the Gorilla-verse, which has been told through songs, music videos, live performances and more, fans were certainly looking forward to this movie, which would cement lots of the nebulous parts of the world Albarn created for his music.
And, as you can imagine, people aren't too happy with the news of the Netflix cancelation. They've responded with a mix of upset and resignation:
While there is a glimmer of hope — some shows canceled from Netflix have been revived by other services, like Tuca & Bertie which was picked up by AdultSwim and Uncoupled which is going to Showtime — it's probably not worth getting your expectations up, since most canceled shows stay that way.
If you're keen to see Gorillaz videos, instead of the canceled Netflix movie you'll have to instead re-watch all the music videos from the band, as well as the countless YouTube theory videos that try to explain the lore of the series.
Get the What to Watch Newsletter
The latest updates, reviews and unmissable series to watch and more!
Streaming and Ecommerce Writer
Tom is the streaming and ecommerce writer at What to Watch, covering streaming services in the US and UK. His goal is to help you navigate the busy and confusing online video market, to help you find the TV, movies and sports that you're looking for without having to spend too much money.