Netflix reveals secrets of how it gets viewers hooked on new shows without even knowing!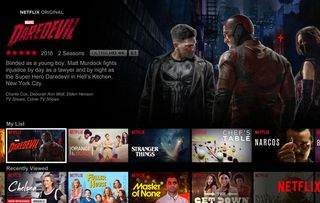 Have you followed one of Netflix's programme recommendations? Chances are you found your favourite show by using it, but would you have picked the genre?
Ever wondered how you got from Orange Is The New Black (opens in new tab) to The Crown (opens in new tab) and Stranger Things (opens in new tab) on Netflix? It turns out it is not just a coincidence or your lucky picks.
In fact, Netflix have a whole algorithm designed to ensure that it makes suggestions you are likely to enjoy, even if you've never watched the genre before. It isn't a crazy Netflix super-power, but it is still quite impressive.
Netflix have revealed that more than 80 per cent of the shows watched by users were discovered following the streaming network's recommendations. What's more, the company refuse to accept that anyone can be opposed to a certain genre. In its own words: "Great content knows no genre boundaries".
It pulled some stats which support this:
One in five Stranger Things fans were new to horror
One in seven Black Mirror fans had never ventured into science fiction before
One in eight Marvel television viewers were new to comic book-based content before Netflix recommendations it to them
The algorithm focuses on a show's key narrative characteristics rather than its genre. For example if you like shows with a female cast you are likely to enjoy GLOW (opens in new tab) and Orange Is The New Black.
Todd Yellin, vice president of product innovation, explained: "At Netflix we know genres are just wrappers, which is why we work hard to create algorithms that help members break these preconceived notions and make it easier for them to find stories they'll love, even in seemingly unlikely places."
How to get from The Crown to Marvel The Defenders on Netflix:
If you love...
The Crown > Netflix will recommend another award-winning British Drama
Black Mirror > Netflix will recommend more science fiction
Stranger Things > Netflix will recommend a little more 80s nostalgia
GLOW > It will recommend something with more female empowerment
Jessica Jones > It will recommend more superhero action
And you'll end up with...
Marvel's The Defenders
And that is how you make it from The Crown to Marvel The Defenders.
So if you really can't decide on your next series and are looking for something binge-worthy, chances are Netflix will know what you want before you do.
Get the latest updates, reviews and unmissable series to watch and more!
Thank you for signing up to Whattowatch. You will receive a verification email shortly.
There was a problem. Please refresh the page and try again.