It's back! Ten questions that NEED answers in Orange is the New Black Season 5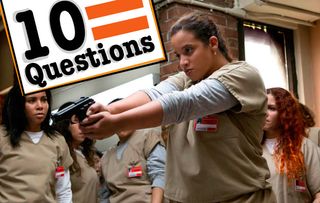 We've waiting, we've speculated and we've avoided the leaks...now all we need are these ten questions answered in Orange is the New Black season 5 as it returns to our screens
With the new season of Orange is the New Black upon us, we have ten questions that need answering in the new 13-episode (opens in new tab)Netflix hit drama.
1. Will Daya fire the gun?
Season 4 of Orange is the New Black ended on the biggest cliffhanger the show has seen, when a riot broke out in the prison following Poussey's (Samira Wiley) death. Ending with Daya (Dascha Polanco) pointing a gun at Humphrey, does the young inmate fire at the guard risking a lifetime sentence? The trailer hints the inmates could take control of the prison and, with the whole of season 5 set in the space of three days, the outcome of Daya's pointed gun will determine the direction of the whole season!
2. Will Crazy Eyes be sent to Psych?
She's been in and out before, but how Suzanne "Crazy Eyes" (Uzo Aduba) has avoided Psych for a longer period before is, well, crazy! Contributing to the Poussey death, Suzanne found it tough to deal with and tried to suffocate herself leading to hospitalisation. Does this mean a longer trip to Psych for her? We're hoping not as hilarious scenes between her and Lorna (Yael Stone) last season were among the highlights for us!
3. Will Sophia be accepted back into the prison?
Sent to the SHU as protection from the transphobic bullying she was experiencing by the other inmates, Sophia (Laverne Cox) was released back in to the rest of the prison near the end of season 5. Although she managed to reclaim her hair salon (with the help of Gloria), will she be accepted once again by the rest of the inmates?
4. Will we see more of Stella this season?
Popular character Stella (Ruby Rose) was sent to Max in season 3 after being set up by Piper for the illegal underwear business. Hardly seen in season 4, will she make a return to the main prison in the new season? Also, we'd love to see Sister Ingalls (who fought to get Sophia out of SHU, but ended up there herself) and Lolly (sent to Psych after wrongfully admitting to Aydin's murder) return to the main prison – their characters are too good to be in the shadows!
5. How will Soso and friends fare after Poussey's death?
With Soso (Kimiko Glenn) and Poussey's romance cruelly taken away from them after Poussey's death, how will Soso fare without her girlfriend? For a character who has very much been on the fringes since her first appearance in season 2, how she and best friends Taystee (Danielle Brooks) and Black Cindy (Adrienne C. Moore) cope now Poussey is no longer around is sure to be a huge theme throughout the new season.
6. What will happen to Piscatella?
The fierce, authoritative and no-nonsense guard was hated universally by inmates and after demanding his dismissal – which led to the riot that killed Poussey – will Piscatella (Brad William Henke) indeed leave? An interrogation between Red (Kate Mulgrew) and Piscatella last series hinted there are some dark secrets in his past, and we WANT to see them uncovered! Is this the moment we see more of the make up of one of Litchfield's fiercest characters this season? Here's hoping!
7. Will Judy King still be released?
All set to leave after her rather tame prison experience, celebrity chef Judy King (Blair Brown) was caught up in the middle of the riot in the final episode of season 4 which ended with Daya pointing a gun at Humphrey. Rumours are swirling that Judy could somehow play a role in what happens next: Could she be shot? Will she end up staying in the prison? Surely a calm and simple stroll out of Litchfield won't happen anymore...
8. Whose flashbacks will we see in season 5?
One of the great things about Orange is the New Black is the flashbacks, where we see the everyday lives the inmates had before they were behind bars. There are a host of big characters (some of which have been here since season 1) whose flashbacks we haven't seen yet or whose crimes haven't been fully explained. Fingers crossed this season we're have episodes focusing on Big Boo, Yoga Jones, Alison, Angie, Anita and Stephanie who we're desperate to find out more about!
9. Will Aleida or any other former characters return?
Seen panicking after a TV report on a death at Litchfield, will Daya's mother, Aleida (Elizabeth Rodriguez, on left of picture) make a dramatic return in the new season?
We also have our fingers crossed for some other character comebacks: Vee (surely she's not really dead despite being hit by a van?), Larry (will he try to win back Piper?), Bennett (or has he been scared off for good by Daya's family?). Remember, never say never folks.
10. Could Piper leave?
Although the viewers entered the prison through the eyes of Piper (Taylor Schilling, on left of picture), there are some rumours that she could leave the prison before the show is over! With the show steering further away from Piper Kerman's book, it isn't inconceivable that Piper could leave in the near future especially if the writers feel the character has run its course. Some love her and some loathe her, should she stay or should she go now?
https://www.youtube.com/watch?v=NzJATbm8U98
Orange is the New Black is released in full on Friday 9 June 2017 on Netflix.
All images credited to Netflix
Get the What to Watch Newsletter
The latest updates, reviews and unmissable series to watch and more!