Network (1976) | Sidney Lumet's Oscar-winning satire vents again on Blu-ray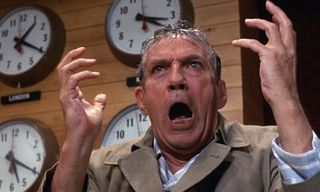 In 1976, acclaimed American dramatist Paddy Chayefsky (opens in new tab) and film director Sidney Lumet (opens in new tab), delivered a scathing attack on the medium in which they made their names, in the black satire Network (opens in new tab).
Peter Finch (opens in new tab) won a posthumous Best Actor Oscar (he died while promoting the film in January 1977) as well as a Golden Globe and a Bafta, playing veteran anchorman Howard Beale, who, facing the axe, flips his lid and announces he is going to blow his brains out live on air – which sends his show's ratings through the roof, giving ruthless suits, Faye Dunaway and Robert Duvall, the perfect opportunity to exploit their 'mad prophet of the airwaves'.
Chayefsky's Oscar-winning script may have been an all-out rant against the power of TV media and those pulling the strings, but watching it today – especially in light of the News International phone hacking scandal and reality television programming – it seems just as relevant.
Faye Dunaway (opens in new tab) also scored an Oscar for her forceful performance as one of the TV chiefs, as did Beatrice Straight (opens in new tab) for her tour de force turn as William Holden's neglected wife; while Holden puts in one of his last truly solid performances in his later career.
Although Lumet missed out on an Oscar nomination, he did score a Golden Globe for his incendiary direction; which includes an electrifying scenes in which Finch's viewers head to their windows during a thunderstorm to scream out loud: 'I'm mad as hell and I'm not going to take this anymore!'. So effective is this scene, you'll find it hard to stop yourself from following in their wake…
THE UK BLU-RAY RELEASE Network gets its UK Blu-ray release from Arrow Video (opens in new tab) on 23 March 2015, with a raft of new special features, including a new documentary exploring Lumet's career. A collector's booklet is also include with new writing on the film by Mike Sutton and an American Cinematographer http://youtube.com/v/xxajGBZeQZc
Get the latest updates, reviews and unmissable series to watch and more!
Thank you for signing up to Whattowatch. You will receive a verification email shortly.
There was a problem. Please refresh the page and try again.