Nick Knowles on DIY SOS: Grenfell - It's our toughest but, morally, the most important'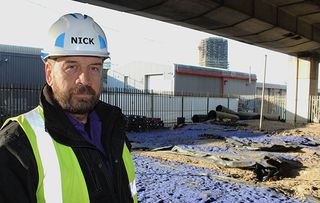 (Image credit: BBC/Hamish Summers)
Nick Knowles on DIY SOS working with the devastated Grenfell community to create two special buildings for their future…
It was a tragedy that broke the hearts of the nation. In the early hours of Wednesday 14 June 2017, a devastating fire broke out in Grenfell Tower, a 24-storey block of flats in North Kensington, West London, which would cause 72 deaths, with many more left injured and homeless.
Three days later, BBC1's dedicated DIY SOS team arrived at the site determined to help in any way they could, and, after months of consultation, got permission to construct two buildings for the Grenfell community – a new home for the Dale Youth Boxing Club and a multi-purpose community centre…
Here Nick, 55, reveals why BBC1's two-part DIY SOS: Grenfell special is a build like no other…
When did DIY SOS become involved in Grenfell?
"We were working on another DIY SOS and happened to put on the TV late at night. We sat there in disbelief as we watched it unfold. Our executive producer Robi [Dutta] was in Grenfell three days after the fire. I was here a week later. We talked to people to see whether there was anything worthwhile we could do. We didn't want to just turn up and build something, we wanted ask the community what they needed and wanted."
How did you include the community?
"We started a general consultation process, put up posters and flyers and held meetings so people could give their opinions. In the end it came to a majority consensus that the boxing club was really important to young people in the area while a multi-use community centre was seen as the way forward for groups who wanted to use it."
Does building under a dual carriage way pose unique challenges?
"Building on waste ground underneath the Westway does present certain difficulties. It's the main route in and out of London so obviously we didn't want to damage it! We needed a specific spider crane because you can't get a regular crane in here. It's the toughest build DIY SOS has done but, morally, the most important."
Why was this location chosen?
"It was critical we built close to the Tower so people felt it was in the community. Working with Child Bereavement Trust we discovered counselling was happening a mile and half away, which was too far and essentially in a different community. Everyone wanted this build close by."
What concerns did people raise?
"People were rightfully suspicious of the motivations. Who was making money out of it? Who would own it? Could it be sold from under their feet? We had a tea tent in the middle of the green and spent hours chatting with no barriers."
Did you talk about the night of the fire?
"Yes, among those we talked to are the Gomes family [Mario and Andreia Gomes are the parents of the youngest victim, stillborn baby boy Logan Gomes], Nabil Choucair who lost six members of his family that night, and the firefighters. The emotional wreckage is heartrending, but there's also an extraordinary sense of a community coming together. The fact they allowed us to work with them is a great honour and something I'll remember for the rest of my life."
If this were a commercial project, how much would it have cost?
"Two million pounds. There's £100, 000 worth of steel in it, and everything's donated – time, supplies, lighting, electrics, drainage, groundworks… Local firefighters came in on their off-shifts. A boxer from the youth club made the front desk. It's not been an easy build. We had to shift the stairs by a metre at one point! But we've built two epic buildings with the help of volunteers from the community and all over the country."
How long did it take?
"We usually do ten-day builds. The street for veterans in Manchester took 15 days. This took nine weeks. We've gone the extra mile on everything. For example, fire regulations say a building of this kind doesn't need sprinklers, but we've put them in. Because it's under the Westway it's got air-purifying units. We've gone belt and braces on everything."
Does it feel like an extra special achievement?
"It's special and important. Grenfell was a national disaster but also a very private and personal disaster to every family involved. Promises had been made and the community were rightly angry things haven't materialised. It was absolutely critical we completed the task and handed it over so, a year on, there's something physical here that the community can use. It's important to show that things can and should be built."
Can these buildings help the community look to the future?
"We hope so, but it's for the people who live through this to decide when they start looking to the future. There's an enormous amount of grief still to work through. It's part of the reason we built counselling rooms. But yes, certainly, we hope having somewhere new to gather in will help them heal."
Prince William paid a visit to the site. Was it nice to have him along?
"We were very pleased to have him along. During his visit to Grenfell, Prince William spent two hours talking to people and looking around the buildings. Some survivors he knew from previous visits. Nabil chatted to him for a long time and afterwards remarked on how he really cares."
In this week's episode we'll see the boxing club being revealed. Was it a big event?
"Yes, all the kids came piling in. They were smiling and laughing, using the running machines and punching all the bags! They were so full of joy and happiness that day."
The first episode of DIY SOS: Grenfell airs on BBC1 at 9pm on Wednesday 5th September.
Get the latest updates, reviews and unmissable series to watch and more!
Thank you for signing up to Whattowatch. You will receive a verification email shortly.
There was a problem. Please refresh the page and try again.